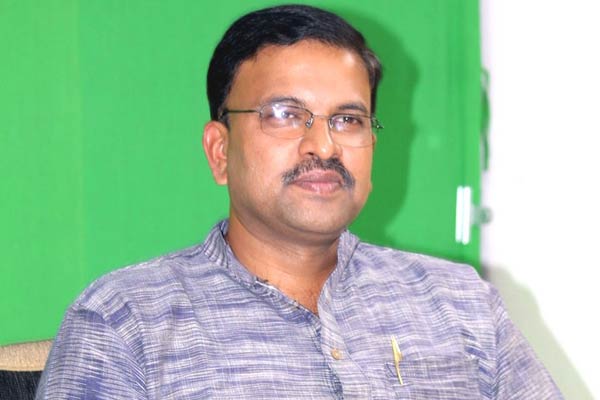 Former CBI Joint director, who recently joined Janasena, got MP ticket from the party. He will be contesting from Visakhapatnam as MP candidate. Visakhapatnam MP seat got everyone's attention in 2014 election as BJP candidate Haribabu sprang a surprise by winning against YS Jagan's mother Vijayamma. However, as there is no alliance with BJP, TDP is fielding its own candidate this time. Discussion started in social media and among political circle about the chances of Lakshmi Narayana winning from here. To check that we need to see, who is contesting from other parties too.
Tollywood producer, who earlier arrested under Land Grabbing Act contesting from YSRCP:
Tollywood producer M.V.V.Satyanarayana who produced movies like Luck unnodu with Manchu Manoj, Gitanjali with Anjali and Srinivasa Reddy (Kona Venkat as the writer) is contesting from YSRCP here in 2019 LS election. M.V.V.Satyanarayana has been chosen for the ticket, within 24 hours of joining the party and that gave rise to suspicions among people that he might have given a good amount for party fund. Vizag LS seat was contested by Y.S.Vijayamma in 2014 but she lost it to BJP MP Haribabu who was considered underdog before the election.
However, MVV Satyanarayana was not only a producer but also a realtor and there have been police cases related to land trespassing on him. In fact, he was arrested by Palem police in 2016 under the AP Land Grabbing Act for allegedly encroaching on other plots by merging roads, drains and also common space. The cops picked him up from his office at Lawson's Bay Colony. At that time police told to media that MVV Satyanarayana involved in the construction of a gated community opposite the ACA-VDCA cricket stadium. He had purchased 38 out of88 plots spread over survey numbers 357/1 and 357/2 in the panchayat-approved layout and had also performed Bhoomi pooja a few days ago before starting construction. But on the eve of the inauguration, his firm encroached into the adjacent plots and erected hoardings and other publicity boards making it look like those areas also belong to them, said the police. Upon the complaint by one of the owners of adjacent plots, Police arrested him. However, at that time, Satyanarayana alleged that TDP president and MLA Kala Venkata Rao was behind his arrest.
Son-in-law of Nandamuri Balakrishna from TDP:
Sri Bharat, the grandson of senior TDP leader late M.V.V.S. Murti and president of GITAM University, is contesting from Visakhapatnam parliament constituency as TDP candidate. He is the son-in-law of Nandamuri Balakrishna and co-brother-in-law of Nara Lokesh. M.V.V.S. Murti who passed away a few months back has very good name in this area but TDP giving many tickets to own family is actually turning out to be a negative point. CBN's son Lokesh, CBN's brother-in-law Bala Krishna already contesting for assembly.
Lakshmi Narayana from Janasena:
Janasena has very good prospects in this area. During 2009 also, PRP got decent number of assembly seats from this area. Moreover, it has significant chunk of Kapu population. More than all this, Vizag is considered "urban" Lok Sabha constituency as it has more educated voters and Lakshmi Narayana has very good image among these educated voters. Pawan Kalyan contesting for assembly from the same district also is expected to have positive impact.
So, definitely, JD Lakshmi Narayana has very good chances of winning. But politics is always unpredictable and dynamic. We will have to wait and see whether Lakshmi Narayana will win as MP from here.