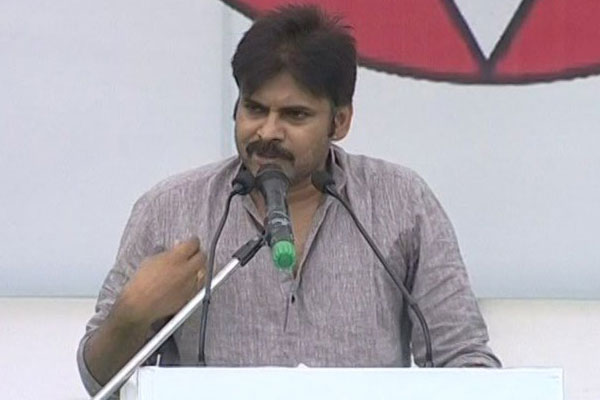 Tirupati: Actor-turned-politician and Jana Sena founder Pawan Kalyan has opined that unlike the situations in two and half hour movie it is not easy to find solutions for real-life situations like Ramdev Baba noodles.
"Many can be done in a movie like gifting properties, thrashing villians and roudies, romancing with heroines and stop the injustice being meted out to the poor, but we don't find solutions in real-life situations like Ramdev Baba's two-minute instant noodles," he quipped.
He was addressing a public meeting in Indira Maidan, Tirupati on Saturday. Pawan Kalyan said he decided to choose Tirupati as venue only because both AP CM Chandrababu Naidu and Prime Minister Narendra Modi addressed people of the State at this very venue after forging TDP-BJP alliance during the elections in 2014.
He urged his fans to watch his movies for entertainment but not to take them too serious. Referring to the recent death of his fan Vinod Royal who got killed by a fan of actor Jr,NTR, Pawan Kalyan ruled out any rivalry among the Tollywood stars. "Please don't take movies seriously, because I don't take them seriously," Pawan urged fans.
Reiterating that he would take the real-life in a serious manner rather than reel life, he further appealed his supporters not to go extremes by resorting to violence by losing temper.