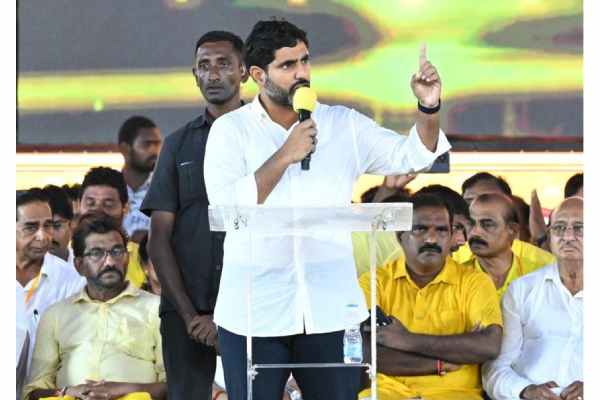 TDP supremo and former chief minister, Nara Chandrababu Naidu, is a visionary while Chief Minister, Jagan Mohan Reddy, is a prisoner, commented TDP general secretary, Nara Lokesh, on Sunday.
Addressing the ongoing Mahanadu on the second and concluding day on Sunday, Lokesh termed Chandrababu Naidu as a hero while Jagan as a zero. Before the last Assembly elections Jagan acted as a soft leader but after coming to power he became a psycho and this is the reason as to why he is named as psycho Jagan, remarked Lokesh.
Recalling the services rendered by late NT Rama Rao as the chief minister of the State, Lokesh said that it was NT Rama Rao who introduced the schemes like Rs 2 a kg rice, pucca houses, janata clothes, mid-day meal and several other such schemes to the country. While NTR, who floated the Telugu Desam Party has history, Chandrababu Naidu has the calibre to run the State, he remarked.
It is Naidu who has created history by building the Hitech City in Hyderabad and clearly defined what is development by encouraging several companies to set up their units in the State like Kia Motors, HCL and TCL, Lokesh observed. Chandrababu introduced several welfare schemes like Chandranna Bheema, Pelli Kanuka, loan waiver for farmers, Pasupu Kunkuma and many such schemes besides introducing Anna Canteens to provide food to the poor, he added.
Lokesh said that Chandrababu means development while Jagan means destruction. Jagan, who came to power by appealing to the people to give him a chance has become the richest Chief Minister in the country, he said.
While Chandrababu has built pucca TIDCO houses Jagan washed off his hands by distributing a cent land each for the poor, Lokesh said, adding that it is the TDP that has spent Rs 150 cr during its regime for the welfare of the party cadre. "If any party worker is in trouble I am here to come to the rescue of such workers and I will not leave those who are creating troubles to the TDP cadre," Lokesh maintained.
Stating that the time has come to bury the Raja Reddy constitution, Lokesh gave a call that 'psycho should go and cycle should be back'. The TDP national general secretary observed that late NT Rama Rao will remain as a true legend even for one thousand years.