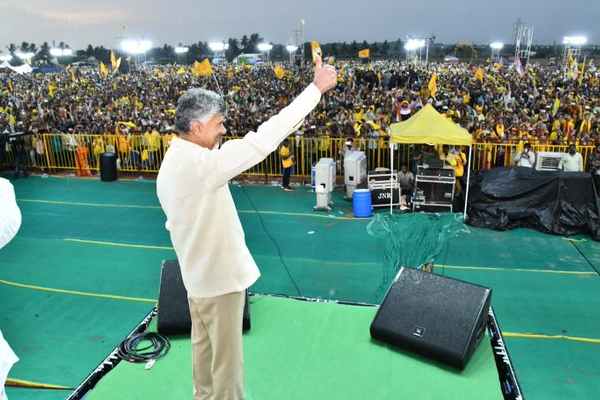 Former chief minister and TDP supremo, Nara Chandrababu Naidu, is confident of the party coming back to power in the coming Assembly elections and on Sunday he announced various welfare schemes to be implemented for different sections soon after reassuming power.
Addressing the TDP's Mahanadu on the second and concluding day on Sunday, Chandrababu Naidu named the schemes as Guarantee for Future (Bhavishyathuku Guarantee). He promised to pay Rs 1500 each every month for all the women who have completed 18 years of age which means Rs 18,000 per annum and Rs 90,000 in five years.
Chandrababu said that under the Talliki Vandanam Salute to Mother) scheme every mother will be paid Rs 15,000 per annum and three cylinders will be supplied to every family under the Deepam scheme. The TDP supremo promised to ensure free transport for all women in the State once the TDP forms the government again.
Amid huge applause, Chandrababu Naidu said that 20 lakh posts will be filled in various government wings for the youth under the Yuva Galam scheme and till the youth get employment an allowance of Rs 3,000 each will be paid every month as Yuva Galam fund. Observing that it was the farmer who struggled hard even during the Corona pandemic, Chandrababu Naidu said that the coming TDP government will pay Rs 20,000 to each farmer every year to meet the agriculture expenditure.
Assuring the people that safe drinking water will be supplied to every door-step in the State, the former chief minister promised to bring in a legislation for the safety and security of the Backward Classes (BCs). Chandrababu Naidu expressed his deep desire to make the poor as rich, he called upon the TDP leaders and huge party cadre gathered at the Mahanadu to strive hard to achieve this goal of making the poor as rich.