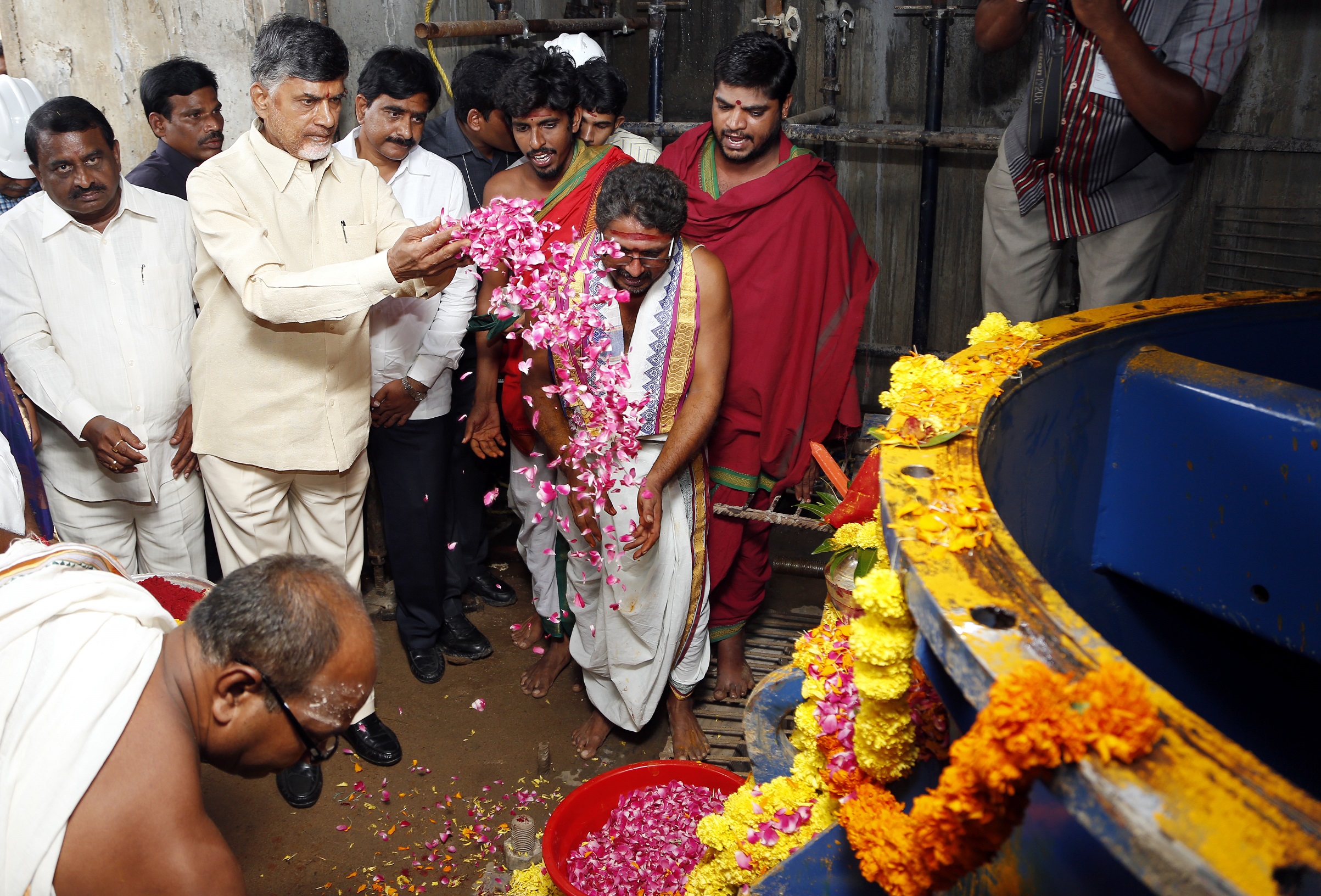 Andhra Pradesh chief minister Chandrababu Naidu today participated in the ceremony of linking of rivers Godavari-Krishna facilitated by the Pattiseema lift irrigation project. Welcoming the joining of Godavari waters with Krishna waters, chief minister Naidu unveiled a pylon at Ferry, a village in Ibrahimpatnam mandal, Krishna district.To make the linking of two important rivers of Andhra Pradesh memorable Andhra Pradesh government organized the program as a religious event. Priests performed pujas as per the Hindu tradition chanting the Vedic hymns.
The flow of Godavari water towards Krishna basin began with CM switching on the motors meant for pumping of the water into Polavaram right branch canal which empty the water into Krishna barrage. Describing the event as the first step in making state drought proof, chief minister said it was a sacred moment for everyone as they had witnessed great rivers of the state Krishna and Godavari join.
He smeared clay, brought from the point of where Godavari and Krishna water joined, on his forehead. Naidu told the people assembled to there to witness the event that they were witness at a historic and sacred event.Naidu said the interlinking of rivers was the brain-child of Atal Bihari Vajpayee the project could not make progress during UPA regime. "Today, we have taken it up as a challenge and made it happen in a record time, in spite of roadblocks created by detractors," he said
Pattiseema Lift Irrigation Project was conceived because of the delay involved in in taking up Polavaram project, he said." We don't want Rayalaseem suffer during the execution of the Polavarm project which is likely to take four year for the completion," Naidu said. The Pattiseema is designed to draw 120 tmc water from Godavari and release it into Krishna barrage. The point is being taken up at a cost of Rs 1300 crore and expected to functional fully by March 2016.
Drama in run up to the event
But, to make the event go as per the expectation of political bosses, scores of engineers from electricity and irrigation department along with hundreds of workers had been deployed put the pumps in place. Originally, the switching-on of the motors was to take place at nine in the morning. But, incessant rains put paid to the plans. Till afternoon the welding works could not be completed. Finally, two pumps with a pumping capacity of 354 cusecs were installed and electricity supply posed a problem for some time further delaying the release of water.