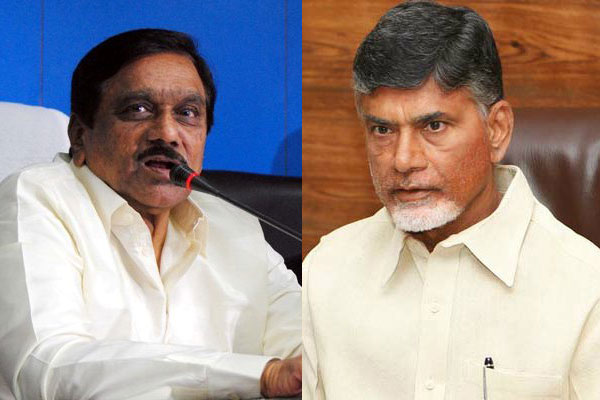 Widening the gulf between the chief minister Chandrababu Naidu and KE Krishnamurthy, government, today kept in abeyance all the transfers of deputy collectors, the revenue department made on Tuesday.
According to sources in the government, the transfers were made at the instance of deputy chief minister KE Krishnamurthy ,who is also the revenue minister. The GO was issued by principal secretary J C Sharma. But, suddenly, Sharma himself issued another GO keeping all the transfers in abeyance on Wednesday. There has been some tension regarding the administration of revenue department between the chief minister and deputy chief minister for quite sometime.
KE has been unhappy with his reduced role in revenue matters. At the same time, he was also unhappy that municipal minister P Narayana is acting like de facto deputy CM. To prove this capital region has been cut off from revenue minister and Narayana has become uncrowned king of revenue affairs in the region. Around the same, allegations were leveled that crores of rupees changed hands in the first round of deputy collector transfers in the state. Much to the embarrassment of KE, the CM is said to have sought explanation from the revenue minister. Posting of a deputy collector in Vizag at the instance of a minister from the district, which opposed by another minister, spilled into streets. The issue proved that money was involved in the postings of deputy collectors in a big way. The charges of corruption in the transfers in the revenue department had created a lot of bad blood between the CM and Dy CM.
Now again the transfer of about 20 deputy collectors triggered another round of ugly controversy in the government.Sources said complaints have reached CM about the large scale corruption involved in the postings and retentions of deputy collectors, who play crucial role in land related matters.
In Andhra Pradesh revenue department, irrespective of the party in power, is most unpopular department. Every minister and influential MLA wants to have his own man posted as the RDO (deputy collector) in his constituency or district. Each posting carries a reward of money running into 50 lakh to a crore.
Angry over the transfers, the chief minister Naidu is said to have asked the deputy CM to withdraw the order issued yesterday. Principal secretary, JC Sharma, issuing a GO on Wednesday, has kept all the transfers in abeyance