At a time when Rayalaseema is resenting that the region is being ignored and the chief minister has become the CM of CRDA, state government is drawing more water from Srisailam dam to Nagarjuna Sagar, while region cries for drinking water.
The decision to acquire fertile lands to set up industrial hub has already fomented trouble in Orvakal and Jupadu Bangalow mandals. Now, water is also becoming combustible at the other end of the district.
Farmers of Kurnool district today laid siege to KC canal and Telugu Ganga offices in Nadyal town protesting the release of water from Srisailam dam to Nagarjuna Sagar to help coastal farmers at the cost farmers of Rayalaeema. They complain that the water was being released even though it fell to dead storage level and needs of the district were ignored.
About 300 farmers, raising slogans against the state government's apathy towards Rayalaseema, in providing drinking water, entered the office premises and locked the doors from outside.
Stating that the refusal of the government to release Srisailam water to the region for drinking purpose is part of the continued ill-treatment to the region, Bojja Dasaradharami Reddy said, the CM had no concern towards people of backward region.
Talking to telugu360.com over phone from the dharna venue, KC Canal and Telugu Ganga office, Dasaradharami Reddy, leader All India Federation of Farmers' Associations, said the water level in the reservoir had fallen to dead storage and still water was allowed to flown into Nagarjuna Sagar.
"When the villages in Kurnool district are crying for drinking water, instead of coming to the rescue of region's people, government is taking water to coastal districts through Sagar. What sort of government is this? " Reddy asked.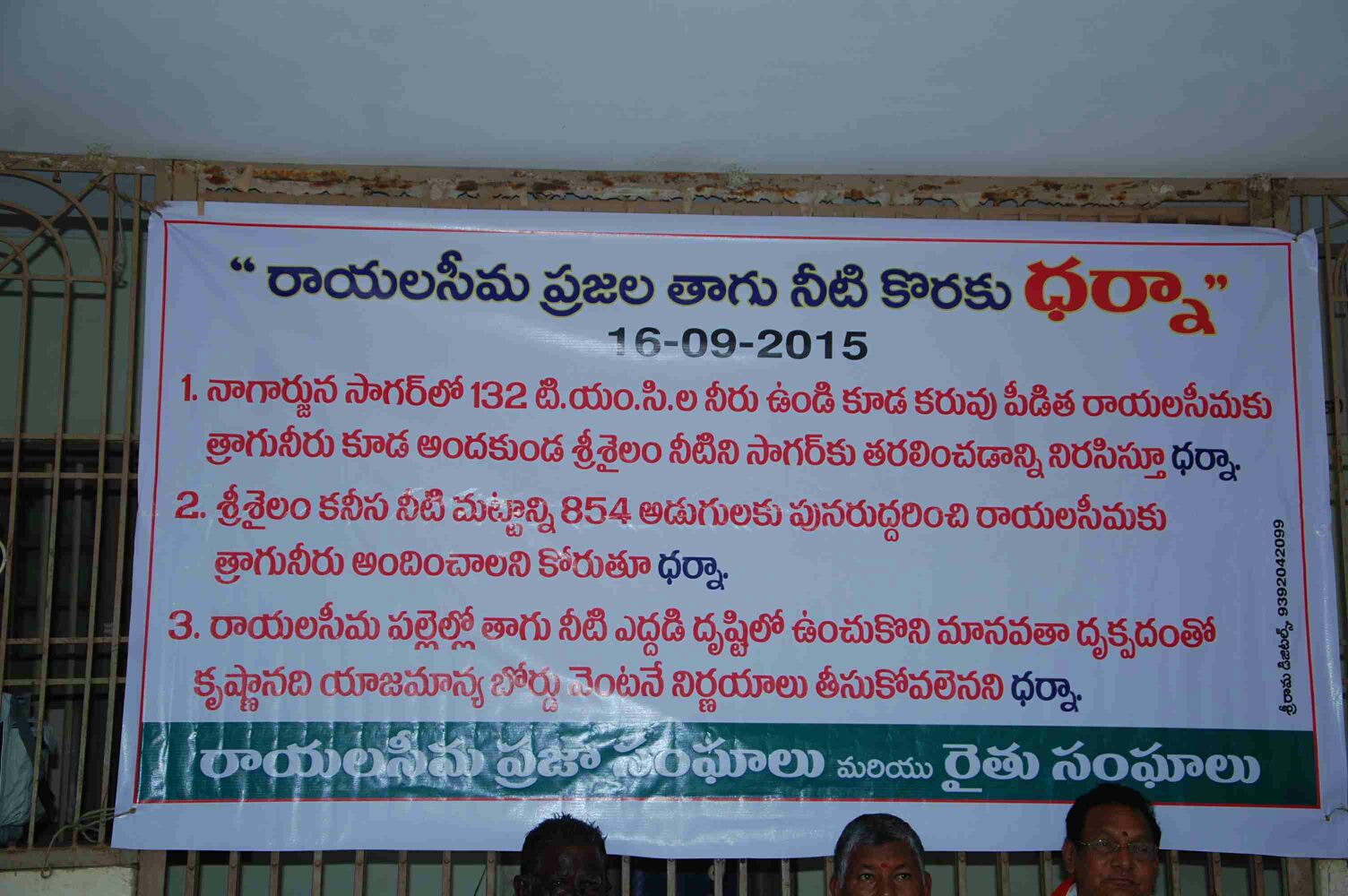 The demands of Kurnool farmers are:
1. Instead of using the available 132 TMC water in Nagarjuna Sagar ,state government is resorting to draw more water from Srisailam to Sagar. It should be stopped immediately.
2. In order to meet the drinking water demands of Rayalaseema, the water level of Srisailam dam should be restored to 854 ft.
3. Keeping in view the acute drinking water scarcity in Rayalaseema, the Krishna Water Boards should take a favorable decision immediately.
They vowed that the farmers of Rayalaseema would intensify their agitation in case water is not released for drinking purpose.