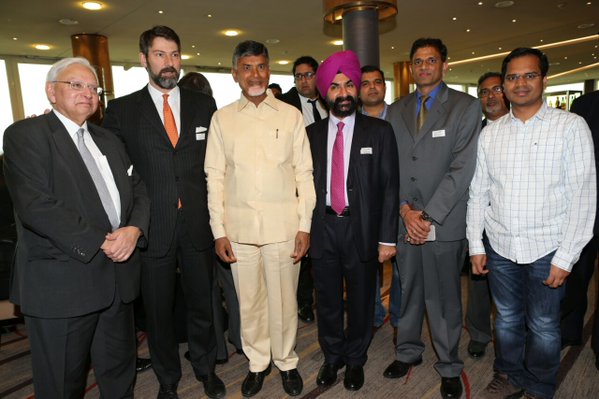 Chief minister Chandrababu who is now in Davos held held negotiations with many CEO of many global and Indian companies. He reviewed the progress of the works on MoUs signed last year in Davos.
Textile Giant Welspun looks towards AP

BK Goenk's Welspun Group will explore opportunities for setting up textile manufacturing plant in Andhra Pradesh. He said that a team from their company will soon visit Andhra Pradesh to explore the possibilities. In this regard, he interacted with the Chief Minister on the growth potential of textiles and apparel industry in the state.
Trina Solar Plant in Vizag to be ready by Jan, 2017

Following their meeting in Davos in January 2015, Rongfang Yin, President, Trina Solar met Andhra Pradesh Chief Minister Sri N. Chandrababu Naidu to present the status of their project in Vizag. He informed that they have successfully performed the groundbreaking ceremony on January 12th, 2016 in Vizag. He also added that the project will completed and inaugurate in one year's time. He assured that the plant will be ready by this time next year.
Siemens evinces interest in power and transport

Dr. Roland Busch, Member of Managing Board, Siemens, expressed interest in setting up a power grid simulation and transport planning system in the state. Given that Siemens is a leading pioneer in urban infrastructure, smart grids, transport, signaling, he invited their assistance for building Andhra Pradesh's capital – Amaravati. During their meeting, the Chief Minister elaborated on "Smart Village – Smart Ward" programme. "I am keen on implementing international best practices for building world-class cities," he said. The Chief Minister also explained the government's e-pragati initiative.
RBI Governor appreciates AP's Land Pooling for Capital

During his interaction with the Chief Minister, Reserve Bank Governor Raghuram Rajan appreciated the state government's approach of land pooling for capital region. "I have read about Andhra Pradesh's land pooling scheme. It is very innovative process," he said.
Stating that he aims to drought proof in the next few years, the Chief Minister stressed that allied activities such as dairy, poultry, fisheries etc would require additional support. Raghuram Rajan responded positively saying he would explore the possibilities of modifying the current practices to facilitate better results.
The Chief Minister added that he aims to focus on achieving a unified and connected government with citizen-centricity at its core through the state government's ePragati. He also explained how the state government has effectively completed Aadhar seeding and brought in transparency in the PDS through e-PoS. Meanwhile, the RBI Governor was all praises for Andhra Pradesh hoardings and "Make AP your Business" bus that is creating buzz on the streets of Davos.
​​