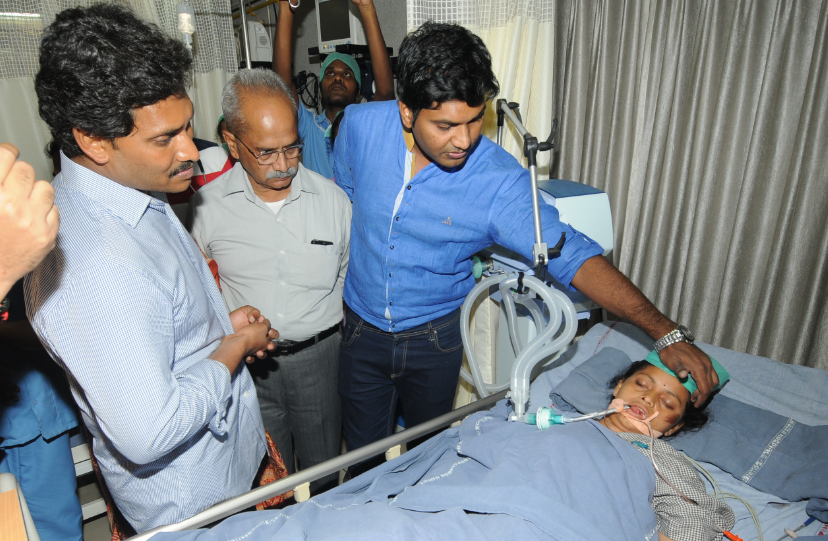 Blaming Chief Minister N Chandrababu Naidu responsible for the stampede in which many devotees were crushed to death at the Pushkar ghat, YSRC president and Opposition leader  Jagan Mohan Reddy demanded he  should quit on moral grounds.
"Though  Saraswathi ghat was reserved for VIPs, Chandrababu Naidu opted to offer puja at the main Pushkar ghat and it was blocked for two-and-a-half hours for the devotees. When the barricades were removed there was sudden surge as the devotees were waiting for long," he said in Rajahmundry on Tuesday. Upon coming to the news of stampede Jagan immediately rushed to the Rajahmundry.
There was no need for Chandrababu Naidu to be at the pushkar ghat which is meant for general public he said adding that just for the sake of publicity  he opted to offer puja at the main ghat so that he would seen by general public.
With Chief Minister at the main ghat, he said, the officials became over cautious and blocked all the ways as devotees, who came for far of places became restless as it was 2.5 hours after sunrise and there was no let up by the officials.
"Once the barricades were opened they rushed in like a surge resulting in the stampede in which scores are killed and injured," he said.
"The ordering of a judicial inquiry is just an eye wash. You cannot bring the thousands of visiting devotees as witnesses. Chief Minister should own responsibility and quit," he said.