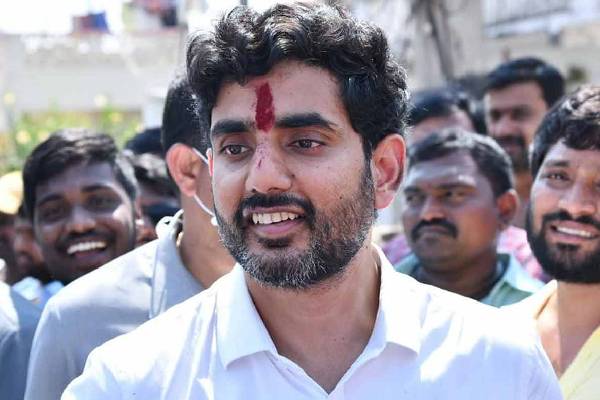 The Srikakulam district police have prevented former minister and TDP general secretary Nara Lokesh from visiting his party leader local councillor Guriti Suryanarayana on Sunday. Lokesh had planned a big rally in the area to meet Suryanarayana.
The police stopped Lokesh convoy stating that there was a law and order problem and requested him to go back. As he refused, the police physically lifted him and put him in his vehicle even as Lokesh and the TDP leaders were protesting.
Later, Lokesh stopped at Visakhapantam and was addressing a press conference condemning the police highhandedness in Palasa. Here too, the police reached the press conference venue and asked Lokesh to cancel it as it was not scheduled and there was no prior permission. The police removed the microphones of the news TV channels and cleared the TDP leaders from the place.
The police served 151 notice and cleared him from the place. The TDP leaders blamed the police for preventing the farmer minister from visiting a place and addressing a press conference. Lokesh fired at the police stating that they have violated his right to visit any place in the state.
Later, the TDP leader alleged that chief minister Y S Jagan Mohan Reddy was losing his temper due to fear of losing the 2024 general elections. He alleged that Jagan Mohan Reddy was in desperation and hence using the police to stop the TDP and its leaders.
The TDP general secretary said that both the police and the ruling YSR Congress party were violating the peoples' rights due to fear of losing the next round of elections.