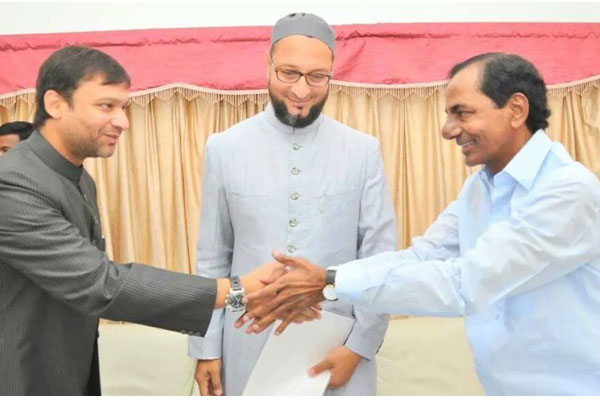 The comradeship that emerged between ruling TRS and the old-city based AIMIM after 2014 polls seems to be on the verge of dilution. Since after Chief Minister K Chandrasekhar Rao started cultivating close relationship with Prime Minister Narendra Modi, AIMIM chief Asaduddin Owaisi started `distrusting' him.
The appointment of Mohammad Saleem as Telangana Wakf Board chairman is said to be the latest issue that triggered confrontation among these two parties.
The selection of Saleem for this coveted position has led to differences between leaders of these two parties. Moreover, Owasi brothers were angry as the government didn't mind to nominate two persons suggested by them as members of the board.
As a protest, no AIMIM MLA or leader was present during the election of Wakf Board Chairman. They were also not seen at the party hosted by Deputy Chief Minister Mohamood Ali, last evening in honour of newly elected Trust Board Chairman.
Meanwhile, these differences are likely to be multiplied during the ongoing MLC polls. Two AIMIM MLCs are retiring. While one of them is from local bodies' constituency in the Old City and the other one was elected from MLAs. Presently TRS is having strength in the Old City to get elected of its own candidate. From MLAs, elections are notified only for three seats and there are large number of aspirants within the party.
In Such scenario, TRS leadership seems to be not interested to accommodate AIMIM. However, Owasi brothers are making efforts to seek TRS to leave at least one seat for them. Finally TRS chief KCR has to take a decision.