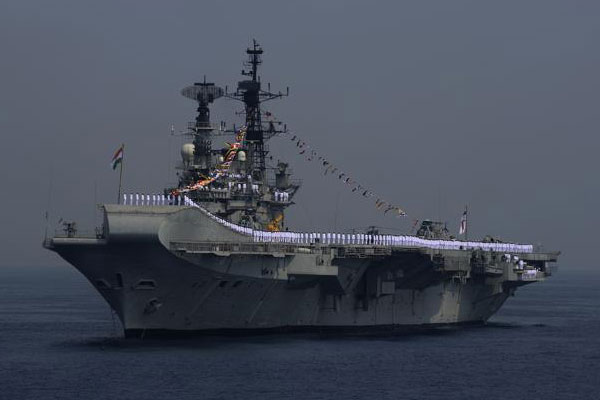 As the decommissioning of the world's oldest aircraft carrier INS Viraat is coming closer, its fate is hanging as the grounding of the ambitious project of the Andhra Pradesh government to convert it into a floating hotel-cum-museum on the Visakhapatnam cost is becoming uncertain.
Referred to as the 'Grand Old Lady' in the naval community, Viraat was completed and commissioned in 1959 in the Royal Navy of the United Kingdom as HMS Hermes. It was decommissioned in 1984 and subsequently commissioned in the Indian Navy on May 12, 1987.
After realising that the project is very expensive one, the Andhra Pradesh government seeking partnership with the centre to proceed further. Chief Minister Chandrababu Naidu proposed to convert it into floating hotel-cum-museum, which would cost Rs 1,000 crore. The AP government also held talks with private partnership and two hotel majors-one from Mumbai and one from Visakhapatnam-for executing the projects.
However, the Vizag-based hotel has dropped its plans due to the huge expenditure, while the Mumbai-based hotel has formed an unofficial consortium and is waiting for the government's nod.
Chandrababu Naidu felt that unless Centre came forward to assist the project, it would be impossible for the state to takes it up. Selection of suitable site for berthing and conversion of the ship into hotel-cum-museum said to be a big challenge.
Initially, the Indian Navy as well as the government were confident over berthing of INS Viraat on the Vizag coast. However, as the fishing harbour and Vizag Port at present do not have space, now there is a need to create a separate jetty for it. Further, the transportation of INS Viraat from Mumbai to Visakhapatnam and its berthing would take at least four months.
The Naval authorities are also not inclined to maintain the to-be-decommissioned ship as it would occupy a large berth. In the absence of a concrete proposal from the AP government, the INS Viraat might be scrapped just like its predecessor INS Vikrant.