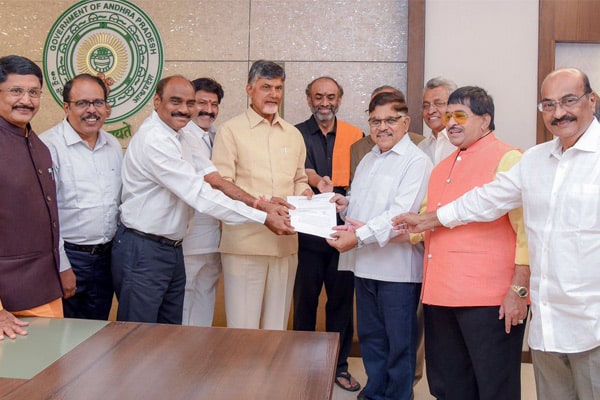 Criticism on Nandi awards
The announcement of Nandi awards for the years 2014, 2015 and 2016 attracted wide criticism of nepotism in allotting awards. Netizens were seen sharing the criticism and trolls in the media. But from TFI, Guna Sekhar and Bunny Vas were among those who tied the bell to the cat.
Firstly, Manam , a clean family entertainer with exciting screenplay , losing to a regular commercial potboiler like legend movie that got 'A' certificate from censor board (for its violence) didn't go well with many people. If state award itself favor 'A' certified movie over a clean family entertainer, what is the message state wants to convey to the makers as well as audience. Moreover hero of the Legend movie Bala krishna himself leading the jury and announcing so many awards to his starer movie apparently attracted the criticism of favoritism. Of course there is not much controversy on other awards given to Legend movie, though it bagged 9 awards except getting 'best movie' award. Because it got award despite showing lot of gory and violence on the screen and that too beating a clean entertainer like Manam movie that was last film of legendary actor ANR.
Meanwhile bunny vasu, who is very close to mega, family, tweeted that "All mega heroes should learn acting AP government to get state awards". Obviously this comment didn't go well with jury members and they replied in the TV channel debate that awards were selected in a very transparent manner. Then, the director Gunasekhar also wrote an open letter babu Naidu questioning why his movie Rudramadevi was neglected in awards. He also questioned AP government for giving tax rebate to NBK starrer Gautami putra Satakarni but no such benefit was given to his movie that is also a historical movie.
On the other hand, there was another argument surfaced today – that heroes from mega family were being neglected in AP state awards. Producer Bandla Ganesh went on to comment that "These are not Nandi awards but these are Cycle awards". He told best story award to Govindude Andarivade and Raghupati Venkaiah award to Chiranjeevi are just an eyewash. Mega fans also were disappointed with Bunny getting just a "best supporting actor" award. Also Chiranjeevi got Raghupathi Venkaiah award while his contemporaries like Rajni and Kamal got 'NTR "national" award'.
Of course, this is not the first time Nandi awards dragged into controversy. It's become almost a regular affair. There were times (1998) when cinematographer like Chota K Naidu threatened that he will go to court as he dicn't get award for his film choodalani undi to another cinematographer whose father was in the jury. In another instance director SV Krishna Reddy also fired on jury for not getting award. In another instance, writer Posani Krishna Murali ridiculed jury for giving best female comedian award to a character which he has written as it was actually a tragedy character (Pelli Kanuka movie – Rajitha) but jury gave best comedian award. At some point of time, Nandi awards became a laughing stock. But later the situations changed. But after so many years, now again Nandi awards attracted lot of criticism and satires.
One thing to be remembered is awards are just like incentives. Getting or not getting awards should not be taken so seriously and one should focus on the work and awards and rewards are just add-ons in life. At the same time, jury needs to exercise sufficient care to avoid nepotism and favouritism. Usually it's a tradition that if someone's work is nominated for any kind of award, they should not be in the same jury that gives awards. But it seems Bala Krishna didn't follow that tradition and that is causing all these troubles now.
Moreover, even for the government it is not good to give impression that there is strong nepotism in this kind of awards as it alienates some section of people to the government (especially in the states where cinema and politics go hand in hand) and that will have subtle ramifications!!!
Telugu360 is always open for the best and bright journalists. If you are interested in full-time or freelance, email us at
Krishna@telugu360.com