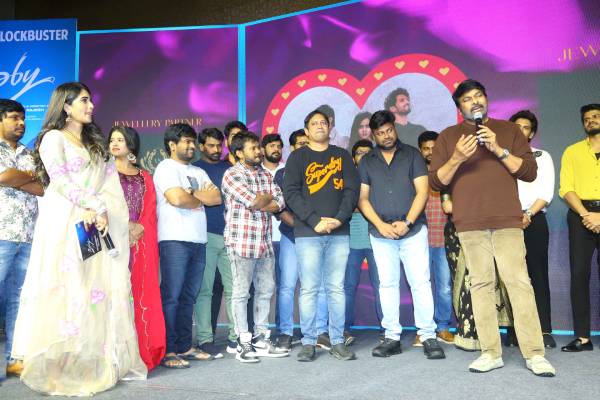 After Iconic appreciation from Allu Arjun, now the cult blockbuster Baby got Mega applause and love from Chiranjeevi. He congratulated the "Baby" team on their grand success. Chiranjeevi praised the work and efforts of each actor in the film as well as the technical team behind this recent sensation.
Anand Deverakonda, Vaishnavi Chaitanya, and Viraj played the lead roles in the film. SKN and Sai Rajesh, who both began their careers as die-hard fans of megastar Chiranjeevi, are the film's producer and director, respectively. He expressed immense pride in the growth and achievements of his fans.
I've known both the producer, SKN, and the director, Sai Rajesh, for a long time. They are my fans. I wanted to take participation in the success celebrations, so I came here," Chiranjeevi explained.
Regarding Baby, Chiranjeevi described "Baby" as an educative film with a haunting impact. He urged parents to watch the film to be cautious about safeguarding their children in the digital age. Chiranjeevi emphasized that technology should be used for good and not misused.
He discussed some key scenes from the film and praised the performances of actors like Anand Deverakonda, Vaishnavi Chaitanya, Viraj Ashwin and others. He commended Vaishnavi's portrayal of a mentally struggling character, calling her next jayasudha, a natural actor with a bright future.