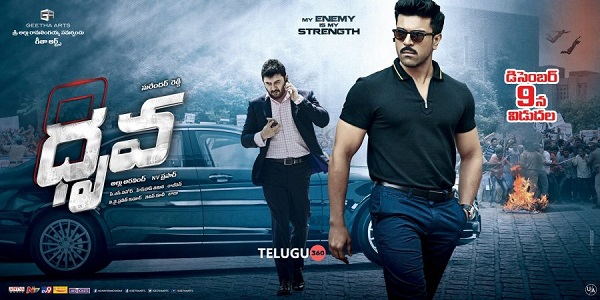 Dhruva review, Dhruva movie review
Dhruva review, Dhruva movie review
Ram Charan's Dhruva, which is an official remake of Tamil blockbuster Thani Oruvan, drew a lot of attention ever since the project went on floors. Charan plays a daredevil cop in the film and veteran actor Aravind Swamy is reprising his antagonist role from the original. Expectations are very high among the Telugu audience and it is evident when the film's teaser packed a solid punch in social media. Charan's stylish avatar, the exotic picturesque locales and Surendar Reddy's interesting narration are going to be a big draw for this film. Rakul Preet Singh is the female lead.
On the commercial front, a lot is riding on Dhruva. Made on double the budget of original, the film has done a solid pre release business and is set for a record opening. Let's see if the film can match the high expectations and put Charan on the success track.
Story :
Dhruva (Ram Charan) and his group of friends are IPS trainees who engage upon a secret night missions to nib the crimes happening in the city. The group get frustrated after knowing that the criminals they nabbed by risking their lives get scot free due to the loopholes in the system. Dhruva is a man skilled in reading between the lines from news and incidents . With his extensive secret research Dhruva identifies that Siddharth Abhimanyu (Aravind Swami), a scientist, is the kingpin who drives the crime system in the state. Realising most of the small crimes are part of a big conspiracy , he decides to engage in war with Siddharth Abhimanyu
Siddharth Abhimanyu, who runs a pharma empire, is on a mission of preventing government from signing a contract with foreign pharma company to produce generic drug in india. Realizing that he has an rival who will not stop until he is defeated, Siddharth begins a cat-and-mouse game with the cop Dhruva.
Rest of the story deals with how Dhruva , Abhimanyu tries to outsmart each other.
Performances:
Ram charan's screen presence and his styling needs special appreciation. Costumes, physique and hairstyle all suited well for a IPS trainee role. And performance wise we'll see a new charan in Dhruva who can emote fairly better than his previous movies. In two scenes his performance stands out. One when he fears and frustrates about possible defeat against Siddhardh and another when he responds to Rakul's proposal.
Aravind swami is superb in villainous role. He has to portray a look of award winning scientist on one hand, and on another a ruthless villain. He excelled in both the shades.
Rakul preet singh got a small but cute role. Her makeup and costumes are stylish as well, with her perfect slim body she looked voluptuous.
Posani characterization could have been better, Navadeep got a decent role after a gap.
Music director Hip Hop Tamizha did a decent job with only 4 songs he had to showcase the talent. P.S. Vinod's cinematography and Naveen Nooli's editing added strength to the movie
Songs :
Dhruva Dhruva :
First song of the movie, inspiration themed Dhruva Dhruva is rugged one. Charan's six pack physique in Title song "Dhruva Dhruva.." Is by far the best toned body in TFI till date. Nice song
Choosa Choosaa nee hrudayanne:
A cool melody , stylish song
Pareshanu Raa:
Out n out commercial song of the movie. Rakul preet singh is super hot and Glamorous in this stylish beach song. Her fan 'base' gets better with this song
Nee thone dance nai:
This expensive song got Bollywood trendy songs look , Charan has showcased his dancing skills
Pros :
Ram charan's hard work
Slick and Grandeur production values
Surender reddy's stylish shot making
Fast paced narration
Rakul's glamor
Songs
Background score
Aravind Swami's screen presence
Cons:
How and why a scientist ( siddhardh abhimanyu) turned such a cruel villain is not established properly
Sluggish 30 minutes post interval
No entertainment aka comedy ( but one should not expect comedy in action thrillers)
Analysis :
Barring a few speed breakers in the initial portions the film gains momentum as it progresses. The film run time is lengthy at two hours and 40 minutes, it has just four songs and no separate comedy tracks. Still audience are engaged watching this racy action thriller. This is a testimony of how good is the narration and execution. Dhruva story has no highs, no lows but USP is well paced screenplay
As the production values are good and director surendar reddy mark shot making added as advantage, most of the scenes looked super stylish.
Those who expect creative mind game between Dhruva & Siddhardh are up for bit disappointment as there is not much creativity nor mind games out there. Tricks been played to outsmart each other are normal.
Verdict :
Dhruva is technically a very strong movie, go and watch if you like class action thriller genre. As is typical with recent Charan movies, there are no mass elements specifically aimed for mega fan base. As this genre may not appeal equally for all sections of audience, commercially movie range depends on how the mass audience engage with this 'no entertainment' but an action genre. We wish Charan's hard work pays off.
Telugu360 Rating : 3/5