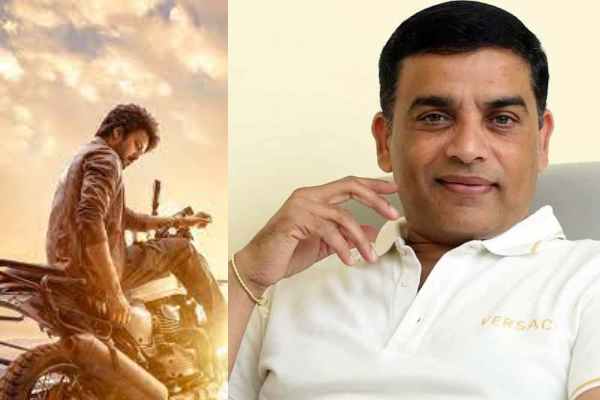 Top producer Dil Raju scored a series of hits and reached a rock-solid place in Telugu cinema as a producer and as a distributor. But he has been in news for the wrong reasons from the past few months. His unusual statements triggered criticism and he was trolled badly. A couple of years ago, Dil Raju himself made strong statements that the theatres should be given on a priority basis for straight Telugu films and not dubbed films. He recently played a crucial role in the Producers Strike which ended up as a huge misfire. All the top actors of Telugu cinema are left in stress by Dil Raju's acts during that time.
He is in news from the past few weeks about the theatre allocation for Vijay's Varisu which was presented as a dubbed film. Two straight Telugu biggies Waltair Veerayya and Veera Simha Reddy are releasing during the Sankranthi season. Most of the exhibitors and distributors are furious on Dil Raju for holding a major number of screens for Varisu which is beyond the market of Vijay. The issue would be soon settled after Chiranjeevi and Balakrishna intervenes in this. Dil Raju turned out to be a point of discussion for his acts and controversies.
In his recent interview, Dil Raju himself revealed that he is a brand because of which he is targeted which is not true. His loose tongue is now a point of discussion across the Telugu states. He turned out to be a point of discussion on the sets of several films. All the top heroes are closely watching out his statements. In his recent interview, Dil Raju's statement said that Vijay is a bigger actor than Ajith. Ajith's fans are quite furious on the Tollywood producer for his statement. He is trolled badly on Twitter for the same. Dil Raju also said that he will soon fly to Chennai to request more screens for Varisu.
Tollywood fans are questioning Dil Raju about the same. When there are big actors like Chiranjeevi and Balakrishna, how could Dil Raju block more screens for Vijay in AP and Telangana? Instead of overlooking his recent statements and controversies, Dil Raju issued a statement that he is targeted so much because he looks glamorous. Netizens are laughing out loud about this.
Frankly speaking, Vijay's Vaarasudu is not even considered across the Telugu states when the films of Chiranjeevi and Balakrishna are in the race. Vaarasudu may get attention if the trailer sounds impressive. May be, Dil Raju is seriously trying hard to bring buzz for Vaarasudu through his controversial statements. For now, Dil Raju is trying hard to stand in news and he is not much bothered about whatever the controversy is. This is a strange side of the Tollywood's successful producer as he is standing more in news through controversies than making more and more films.