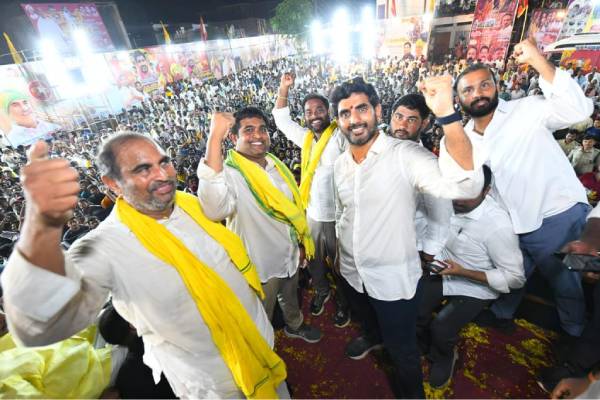 The arrest of Dalit intellectual and TDP MLA, Dola Bala Veeranjaneya Swamy, clearly indicates that the psycoism of the YSRCP Government has reached its peak stages, felt TDP general secretary, Nara Lokesh, on Monday.
Bala Veeranjaneya Swamy is being subjected to harassment repeatedly as he is questioning the corrupt practices of the Jagan Mohan Reddy Government, said Lokesh on learning about the arrest of the party MLA during his ongoing Yuva Galam pada yatra.
"Seizure of the house of the MLA of the Opposition party is nothing but adopting a vengeful attitude towards him and I strongly condemn the inhuman attitude adopted while taking the MLA into custody," Lokesh observed.
Several leaders from Kamalapuram joined the TDP in the presence of Lokesh at the Chenna Mukkapalli campsite of Kamalapuram Assembly segment. Welcoming all of them into the party fold, Lokesh called upon the leaders to strive hard to bring the TDP back to power whenever the elections are held.
"You all should work not only for the success of the TDP in Kamalapuram but also for bringing the party back to power," he added.
Lokesh felt that all those who had earlier reposed faith in Chief Minister, Jagan Mohan Reddy, are deserting the party as they have come to know the ground reality. Even in the recent Legislative Council elections too Jagan felt the heat as the voters rejected the ruling party candidates, he said.
Lokesh's pada yatra entered Kamalapuram Assembly segment from Mydukur and he is given a rousing reception by the party leaders and activists.
The incharge of the TDP for the Assembly segment, Putta Narasimha Reddy led the team of party leaders to welcome Loeksh into Kamalapuram.
As the Yuva Galam reached the 1500 km milestone, a large number of TDP activists gathered on the Chennur-Kondapeta bridge to greet Lokesh. The party workers displayed the 1500 feet long flag on the successful completion of the pada yatra.