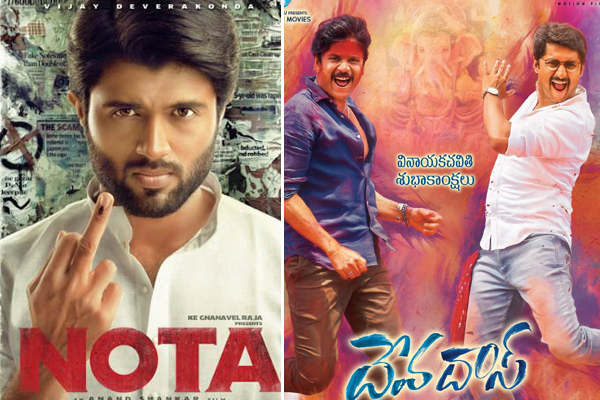 It was a disappointing weekend at the Box-office with New Release NOTA having a poor trend over Saturday/Sunday & the holdover film DevaDas failing to add much.
1. NOTA : After a very good opening on Friday, the Film has dropped big on Saturday & failed to grow much on Sunday. In fact the collections on Sunday are much less than Saturday which tells how poor the film is. The film has collected an estimated distributor share of 8.20 Cr in Domestic markets in it's opening weekend against the valued rights of 20.50 Cr. BELOW PAR !
2. DevaDas : After a huge drop on Wednesday last week, the film continued to remain low even over the weekend. It has added an estimated distributor share of 1.50 Cr in it's second weekend taking 11 days total to 20 Cr approx. Domestic Theatrical rights of the film are valued for at least 32 Cr. The film is a confirmed FLOP now & will get even worse if nothing happens over the coming days.
3. Venom: The film has surprisingly opened well in Telugu States. GOOD !
4. Nawab: The film is a disaster as it hasn't added much in second weekend to an already low total. Cumulative share of the film is at 1.75 cr against the rights of 3.60 Cr. DISASTER !
5. Other new release like Bhale Manchi Chowka Beram & Desamlo Dongalu Paddaru have opened to very poor numbers.