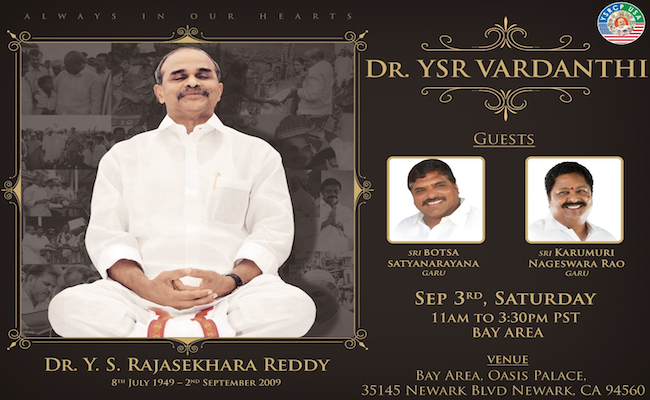 Our beloved and undisputed leader and the pulse of the people of Telugu States Late Dr. YSR has a lot of admirers and well-wishers all over the world and especially in the United States.
Unfortunately, after his sudden and unexpected demise there has been a deep void created in the political system and most importantly the impact is felt by his admirers all over the world.
Over the year's YSRCP – USA committee members & followers of YSR have been serving the community in US through various charitable events, such as, food drive, as well as book donation for the needy marking his death anniversaries.
On marking the occasion of Late Dr. YSR 7th death anniversary, September 3rd (Saturday) a gathering would be organized in Newark, CA by the YSRCP – USA committee.
YSRCP leaders Botsa SatyaNarayana garu and Kanumuri Nageswara Rao garu are gracing the event which takes place from 11 AM – 3 PM.
We request all YSR fans & YSRCP supporters to attend the occasion and pay homage to our leader par excellence Dr.YSR.
Details:
Date: Saturday, 3rd 2016
Time: 11 AM to 3 PM
Venue:
Oasis Palace, Newark Boulevard, Newark, CA.
For more details visit : https://www.facebook.com/YSRCPUSA/
YOU ARE ALL INVITED!