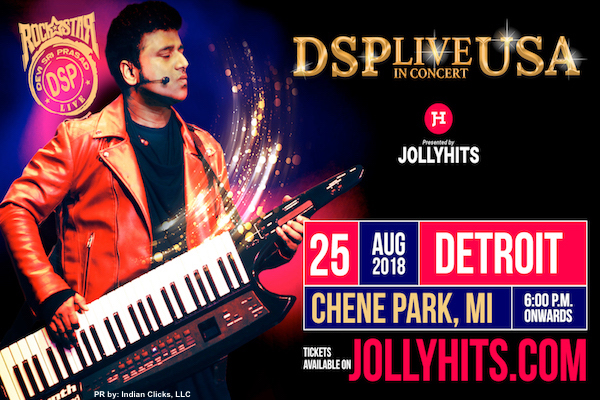 JOLLY HITS INC is very proud to bring ROCKSTAR DSP "Devi Sri Prasad" to Detroit, MI this weekend to perform at Michigan's best Venue "CHENE PARK" which is on International waters with CANADA back drop.
REST ASSURED this will be the best SOUTH INDIAN show ever in MICHIGAN. Grab your tickets today as its kind of one in life time opportunity.
Apart from DSP and his technicians, the crew also has very exciting team which includes Heroines Shraddha Das and Madhu Shalini along with Star Singers Sagar, Hema Chandra, Sravana Bhargavi and Ranina Reddy.
This show is expected to be the LOUDEST ever show at this beautiful venue with craziest production possible. DSP himself is taking special interest to make this the best show till date as Venue demands it where many American Blockbuster Artists performed in the past.
Many tickets have been sold and expectations have been set very high as venue being a Semi Open Amphi Theater with Stage on International water and CANADA Back drop.
Stage Production is said to be one the major highlights of the show where DSP is planning to have a huge setup for team and especially dance crew.
Light show and Sound are also to be highlights where JOLLYHITS team is making sure this will be a visually spectacular and stunning for audience.
DSP successfully completed shows at Seattle and Chicago last 2 weekends which was a huge success and whole team of 50 people with 16 American dancers travelled to Chicago earlier this week.
Join DSP and team CHENE PARK location, this Saturday, August 25th, 2018. Shows starts sharp 6.30 PM.
Also there is enough and ample parking right across the venue making it easier for all audience coming over.
Buy tickets today before they are sold out as organizers have marked down the price to make it easier for all sections of the audience.
For Discounted Tickets, please call Sunil Pantra – 248 469 2349, Kiran – 732 781 8102, Yugandhar – 510 953 9558.
Tickets are also available at Famous Meats (Farmington Hills, MI area) and Athidhi Indian Cuisine (Troy, MI Area).
Upcoming DSP Shows in USA:
Aug 25th, 2018 – Detroit, MI @ Chene park (Sunil – 248 469 2349)
Sep 1st, 2018 – Dallas, TX @ Toyota Music factory (Prathyusha – 210 667 6382, Suresh – 972 841 4683)
Sep 8th, 2018 – New Jersey @ Mercer County Festival Grounds (Ujwal – 510 709 6147, Arun – 313 434 2986)
Sep 16th, 2018 – Bay Area @ SAP Center (Veeru – 510 418 4292)
Also Grab your tickets online- www.JollyHits.com
Press release by: Indian Clicks, LLC