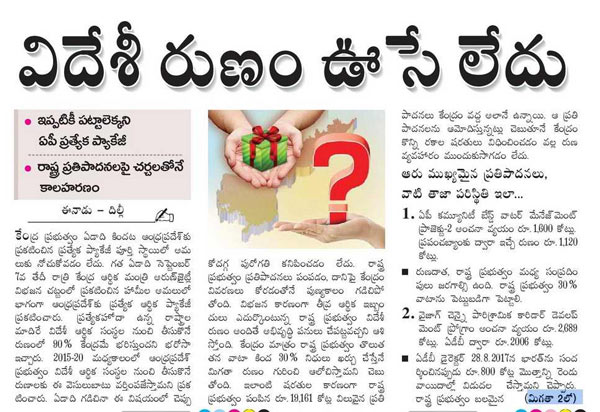 Bharatiya Janata Party in an attempt to make profound changes in its strategy towards Andhra Pradesh and Telangana has certainly took some missteps. While Venkaiah Naidu used to defend the saffron party, his exit from real-time politics, the dynamics in Andhra Pradesh towards BJP are changing evident from the Chief Minister's comments during his Delhi Trip.
The newcomer to the bandwagon of deploring the BJP-led-NDA government is Eenadu. In its Andhra Pradesh Edition on Saturday, the media house which otherwise known to write favorable for BJP and TDP, published a front-page article on how Special package is not being realized. The article also noted that there was no significant progress in the securing loans from foreign banks. Furthermore, it accused the Union government of wasting time by constantly seeking explanations for the proposals sent by the state government. The proposals worth Rs 19,161 crore sent by the state are pending with Central government due to the additional conditions put up by the latter apart from those mention in special package.
The ally TDP gracefully accepted special package despite being denied Special category status. It's been more than a year since the special package was announced and not a rupee was released to the state which is in financial crisis.
Impugning the saffron party will continue not only by politicians but also by media until the rightful share of the state is delivered.