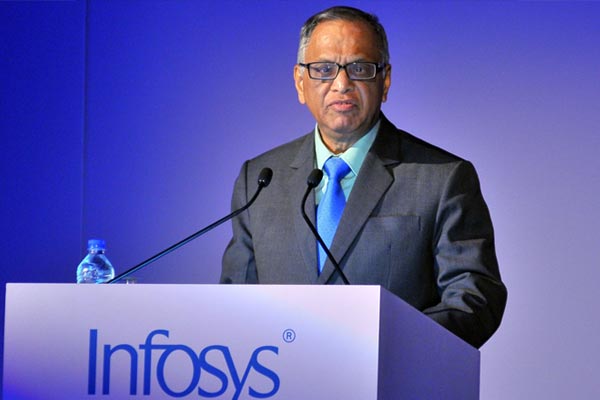 As the CEOs of Apple, Facebook, Google are taking a strong stand against the Trump's policy on immigrants, Indian CEOs are preparing the ground for the worst. The moment of reckoning Infosys Ltd. arrived much sooner than estimated. Amid the chaos, Infosys Co-Founder N R Narayana Murthy held that Indian software companies need to stop sending people on H-1B visas+ and focus on local hiring in the US.
Infosys is among the top three visa sponsors and has used the loop holes in the system in its favor. Known for paying less than market price, apparently, the bruises by visa issue, means it is no longer business as usual for Infosys. These H-1B visas allowed the firm to create easy mobility and keep utilisation rates high.
NRN in conversation with NDTV said becoming multi- cultural is not easy and is a "very, very hard option". He further remarked that "They (Indian software companies) must recruit American residents in the US, Canadians in Canada, British people in Britain etc. That's the only way, we can become a true multi-national company and in order to do that, we should stop using H1-B visas and sending a large number of Indians to those countries to deliver services"
Infosys Ltd and Tata Consultancy Services, largely depend on the system to insert foreign talent on the ground to work with US clients. Earlier when Trump won elections, NRN believed that Indian IT companies need to become more valuable in the USA and that companies can look at improving productivity and quality.
After the stocks fell, when the Zoe Lofgren's bill was introduced in the house of representatives, NRN seems to have taken a U-Turn and is not sure of the bilateral ties. In fact, he is giving away signals that if the bill is passed, they would prefer redeploying the H1B visa holders back home instead of increasing the wages. It is yet to be answered how much of the talent will be redeployed, however, NRN's perspective is to continue recruitment from colleges and local people be trained to add value to Indian companies.
If the salary bar is raised to $130000, Infosys which paid on an average $81,000 to the 25,375 applicants it sponsored last year, would add $1.2 billion to its labour bill. Almost half of the annual operating profit would wane, if this cost is not passed onto its clientele.
Infosys doesn't want to settle for a much reduced scale of business, evidently NRN's statement signifies neither does he want to pass the cost to customers nor he prefers raising the salary. He further added that this was the "only way" to remove the risk of government mandating things like the executive order.
Trump hasn't targeted the India's outsourcing industry yet but Infosys is faring for the worse. No executive order has been signed so far however NRN bluntly stated that "I think even if the executive order comes, we should look at it more as opportunity for Indian companies to become more multi-cultural than we have been, rather than looking at it as a lacuna"
A huge chunk of visas is going to the Indian outsourcing firms like Infosys, who employ engineers at low wages in the US for three years. This self-contradictory statement from the NRN, is giving away wrong signals to the workforce
India's technology outsourcing industry is facing peak pessimism. However, the chief executives of the country's biggest IT services companies will meet with administration officials and lawmakers from 20 February to try and dissuade Trump's team from raising requirements under the H-1B visa programme, said R. Chandrashekhar, the president of industry group Nasscom.