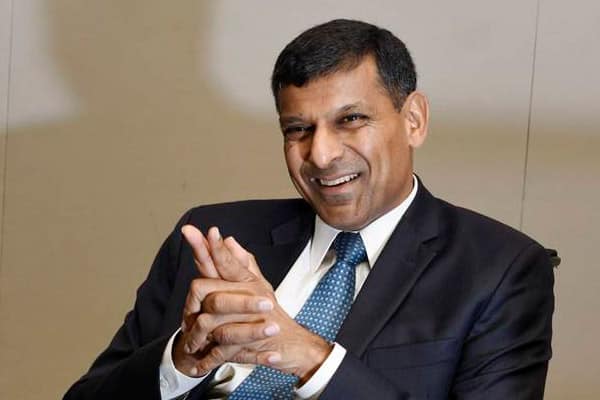 Raghuram Rajan for Rajya Sabha
It's an irony of sorts for the Aam Aadmi Party (AAP) to announce on the first anniversary of demonetization that it is considering the candidature of former RBI Governor Raghuram Rajan for Rajya Sabha membership.
AAP's opposition to BJP is well known and the party's chief and Delhi Chief Minister Arvind Kejriwal throws down the gauntlet to Prime Minister Narendra Modi at the drop of a hat. Then why did the party spring a surprise, that too on a day when the public and the political class were hotly debating the pros and cons of note ban one year after Modi shocked the country?
Kejriwal has chosen the timing to have maximum impact on the public and the media and to hog the limelight. The very fact that he has zeroed in on Rajan who had been at odds with Modi's economic policies, including demonetization, when he was in office, shows AAP wants to use him as a pinprick the way Congress is deploying former Prime Minister and acknowledged economist Manmohan Singh to counter Modi and Finance Minister Arun Jaitley.
It's different issue whether Rajan would like to get involved in politics, leaving his teaching job which is very dear to him. According to an AAP leader, his party had approached Rajan offering him a seat in the Upper House of Parliament. But, he has not responded yet.
Delhi has three seats in the Rajya Sabha and all will go to AAP. They fall vacant in January next year and the AAP is mulling to nominate public figures instead of politicians for the seats. One of the chosen ones is Rajan.
However, the million dollar question is (truly) whether the high profile economist who was tipped to win the Nobel and rumoured to become US Fed chief will oblige AAP requests.
Rajan, who returned to academics to teach at the University of Chicago, after his three-year stint at RBI ended on September 4, 2016, is no-nonsensical man. His philosophy of outspokenness is said to have cost him a second term at RBI. Rajan has penned all his trials and tribulations in his recently released book, I Do What I Do.