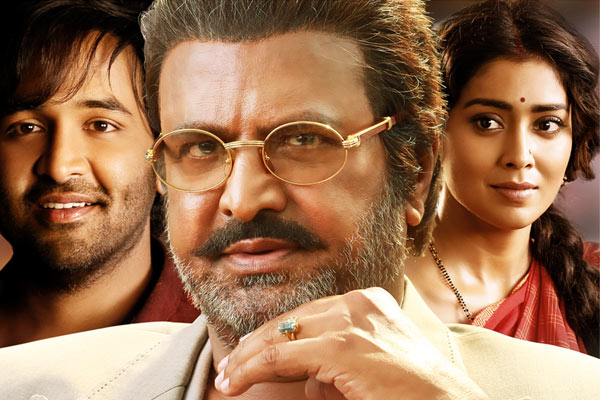 Gayatri Movie Review
Mohan babu Gayathri Review
Final Report :
Gayatri story line is Okay but suffered from poor direction. Narration that suits current days would have made a lot difference to this film.
Dr. Mohanbabu did justice to both roles Shivaji & Gayatri Patel. Manchu Vishnu as Young Shivaji has done decent job. Shriya appeared for few scenes
All in all, with its poor first half and average second half GAYATRI film may find 'some' traction in B C centers and among Mohanbabu Fans.
9:52 AM Good wins over evil. The End of Gayatri ( Patel ) !
9:49 AM A fight between Sivaji & Gayatri Patel in jail !
9:41 AM Melodramatic climax is in progress
9:37 AM Gayatri Story is okay in second half. Contemporary narration would have helped a lot – Now , this old school narration may find only limited audience
9:30 AM As Gayatri Patel we can see glimpses of Mohanbabu's Prime time. An item song too for this negative character
9:15 AM Gayatri Patel ( Mohanbabu ) entrance , his getup is good
9:13 AM After a friend backstabs sivaji was branded negative in public mind, flashback ends
9:05 AM As Tragedy hits sivaji , shriya couple story is in sentiment mode now !
9:03 AM " Oka nuvvu Oka Nenu .. " song shot on Vishnu and Shriya came out well ! Tune is also very good
8:59 AM' Dana Veera Soora Karna' monologue by Vishnu is impressive. His diction adds weight this scene
8:54 AM Flashback Time :
Young sivaji role is played by Manchu Vishnu. Shriya plays female lead for young sivaji.
Interval report:
Gayatri is a cliched 1980's story with amateurish direction. First half has no high moments , hoping for better second half !
8:38 AMKnowing that his daughter ( raised separately since childhood ) is perceiving him as a drunkard , Sivaji disappoints . Interval
8:38 AM Sivaji rescues a lady ( apparently his daughter ) and a big fight scene !
8:24 AM Anchor Anasuya plays a role of a Telivision Channel Journalist
8:23 AM Sivaji ( Mohanbabu ) takes on current day politicians , including AP CM in his typical modulation
A dig at CBN :
" Naaku voteyyani vaallu Nenu ichina pensions teesukovadhu , nenu vesina roads meeda tiragodhu antaadu okadu "
8:16 AM Being a stage actor Sivaji is capable of impersonating others. On one occassion , he helps minister ( Prudhvi ) by replacing him in Jail
8:03 AM Stage actor by profession , sivaji runs sarada sadan to help the needy
7:55 AMDasari Sivaji ( Mohanbabu ) is a good samaritan who helps children and do social service
7:51 AM #Showtime Gayatri
Veteran actor Mohan Babu is portraying the central role in Gayatri which is set for release tomorrow. Madan Ramigami is the director.
The action drama features him in two conflicting roles and the intense trailer with hard hitting commercial elements has generated a decent buzz on the film. Manchu Vishnu is playing the younger version of Mohan Babu and Shriya Saran has a meaty role beside him.
Gayatri has a terrific technical team with Sarvesh Murari behind the lens and MR Verma as the editor. SS Thaman's background score is going to be another asset for the film.
Can Gayatri offer a riveting experience for viewers this Friday. Let's find out.
Release Date : 09th Feb, 2018
Director : Madan Ramigani
Music Director : SS.Thaman
Choreography : Ganesh Acharya
Producer : Dr. Mohan babu
Starring : Mohan Babu, Vishnu Manchu, Shriya Saran
Telugu360 is always open for the best and bright journalists. If you are interested in full-time or freelance, email us at
Krishna@telugu360.com