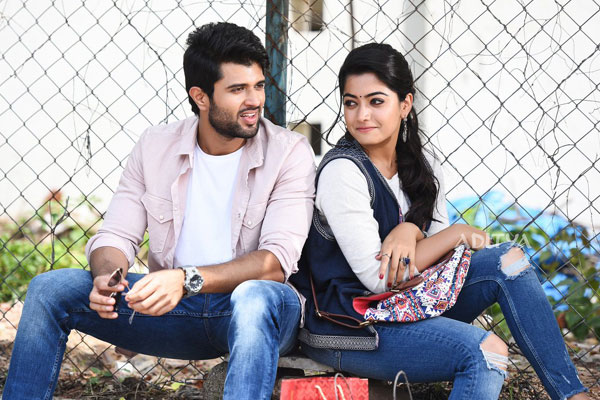 Geetha Govindam starring Vijay Devarkonda and Rashmika Mandanna, is slated to on 15th August, got a shocker as scenes of the movie are circulating in social media. Scenes are being shared by engineering colleges too. Finally, police have taken into custody some students as well as some technicians from the industry.
Engineering college students around Guntur area got the scenes of the movie and they have been sharing the scenes. This came to the notice of some small time director in the industry who passed on the information to Geetha arts. Then Geetha arts guys have took it to notice of Police. Guntur urban SP Vijay Rao has ordered for an inquiry into the issue. Police found that a team member, during post production work, took scenes into his mobile and shared it to some friends, who later circulated to others and the chain continued. Police, after taking the students into custody could trace where the leakage originated and took that person also into custody. Meanwhile, Geetha arts is putting their best efforts to stop the leaked scenes being circulated further.
Geetha Govindam has Vijay Devarakonda, who got immense following after Arjun Reddy, at the helm. 'Chalo' heroine Rashmika Mandanna is his pair. It is directed by Parasuram, bankrolled by Bunny Vasu and is presented by Allu Aravind. There is already huge buzz on the movie and already couple of numbers from the movie became chartbusters.