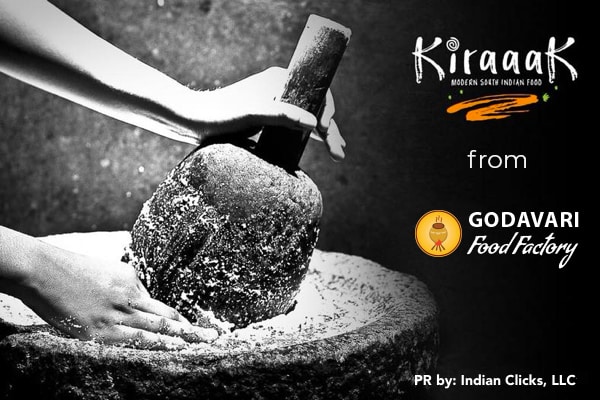 The fastest growing Indian restaurant brand on the globe is rolling out their newest brand called "Kiraaak" with a local slang. Godavari group is now penetrating into the "Downtown Market" with a great menu and a different style of presentation of food.
The first outlet is being opened in the Downtown of Salt Lake City, Utah is now getting tremendous response from various different crowds for this new concept and getting excited with the enticing menu from the Godavari Group.
Kiraaak, taglined as a "Modern South Indian Food" is a very unique concept of presenting South Indian food, with a unique menu of items like "Chicken with the Skirt", "Rum Chops" and a lot more…
Dr. Prasad Reddy (owner of KIRAAAK) the most renowned Business Man and a Venture capitalist in Utah region says that "This team of "Godavari" impressed me a lot in the very first meeting. They are the guys with a great passion and vision towards our food and their dynamism in exploring various markets impressed me a lot and opened the first location in Salt Lake City."
He continues saying, Salt Lake City is missing the authenticity and flavor of good south Indian food. So, we want to open a different model for the downtown area other than Godavari and was impressed with this concept of Kiraaak. "Team Godavari" has lot of such concepts and am sure they have a long way to go in this world of South Indian Food."
Kiraaak has a nice buffet with a decent variety of items and a crazy different menu for dinners
The word "Kiraaak" is really unique which meant "Wonderful" and I liked their food and concept, says Roger Frank, who had their buffet and was very excited.
Let's say "Kiraaak" for our food and Godavari.
KIRAAAK
214 W 600 S Suite A,Salt Lake City, UT 84101, USA.
Please Contact:
Varun Madisetty
630-340-9760
info@Kiraaak.com
Press release by: Indian Clicks, LLC
Telugu360 is always open for the best and bright journalists. If you are interested in full-time or freelance, email us at
Krishna@telugu360.com