BlueSky Cinemas is happy to announce that DJ Team including Allu Arjun, Pooja Hedge, Subba Raju, Harish Shankar and Dil Raju visiting USA to selected locations as follows:
New Jersey, USA
Date: June 30th, Friday @ 7 PM
Venue: Royal Albert Palace, 1050 King Georges Post Rd, Edison, NJ 08837
San Jose, CA, USA
Date: July 2nd, Sunday @ 7 PM
Venue: India Community Center, 525 Los Coches St, Milpitas, CA 95035
Please reserve your seats online at Sulekha.com via http://events.sulekha.com/p/dj. Only limited seats are available and it's first come first serve basis.
Greet and Meet your favorite stars with a possible group table photo. Dinner is served.
This event is being organized by BlueSky Cinemas and please contact 732 586 0932 or 510 755 6880 or movie@blueskycinemas.com for any further details.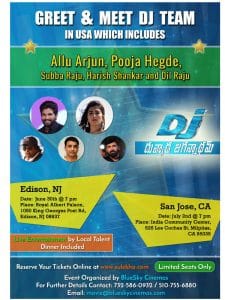 Press note released by: Indian Clicks, LLC