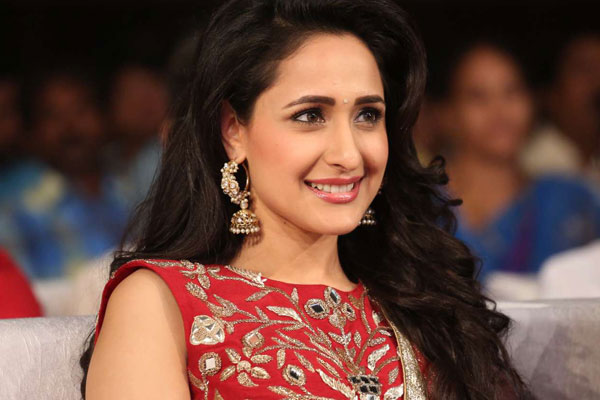 Pragya Jaiswal is another addition to the long list of models who have turned actors. She promises of having her own identity and seemingly has only one distant relative who's into films, barring a strictly academic family. However, she earned permission to explore this side of the world too, ultimately landing up at the audition of Gabbar is Back, where she was rejected. However, the good news was in wraps for a while. Krish had her in mind for another film, which happened to be Kanche and she was quite surprised to receive a call from the producer. She auditioned yet again but there was no looking back since then. In a conversation with Telugu360.com, she calls her role in the film, Sita Devi, a dream and feels, its her hardwork with the team support which made all of this possible.
The hardwork behind her appearance:

I would like to believe that I am tailor made for this but to be honest I have put in a lot of hard work. The entire team has worked hard to make me look the royal and regal girl from 1930s, a Sita Devi look believable and convincing. Obviously this is how I look, but the role really suited me. Initially, I too had my doubts but later I was very happy. I am excited that I am looking like the part that was expected.
Her background and entry into films:

I was born in Madhya Pradesh and we moved to Pune later. My schooling, college and modelling started there. I did not take it seriously and also my family is remotely connected with cinema but for some distant relative. Acting and modelling were never career options. It has been a natural progression. I had it in me but I didn't know I could do it. At last, with my family's permission, I could actually take a step towards it. I was always a dancer and would perform plays in school and college. Since I was into modelling, many doors opened and that's how the journey began .
In films, you never know what works out, when and how. For me, it all just happened, there was never so much planning and strategising. I had actually auditioned for Gabbar Is Back and it never happened. One day, I got a call from the producer Rajeev Reddy. Maybe, Krish sir had me in the back of his mind as he liked my audition. I was very excited and I have seen quite a few friends in South films doing very well. For me, language is not a big deal as long as you are doing good work. I had to audition again for the Telugu film though the first audition helped. I did a small film in Hindi and Telugu and that time I did not know I wanted to really act. That little experience helped me understand the technicalities of film shoot.
On the sets of Kanche:

Here, everything is so unpredictable and you never know what can happen and where life can take you, so just keep working. It is actually a period film that happens during 1930 and eight years from then and how the two characters fall in love. Dhupati Hari Babu and Sita Devi study in the same college. The love story is happening in the backdrop of World War II. Hari Babu goes to a war which is about the world at large and a village too. The title is Kanche and how people create fences between each other and not what God has created; how we create differences between caste, creed, sex, rich and poor. It is a bigger meaning and a bigger message. My story is very integral to the war, Krish Sir has the knack to bring a lot of metaphorical connection to various stories and lives.
About the experience with the film's team and the role:

I have seen Krish sir's films like Vedam, that made me cry. They have a meaning and a message. Varun Tej is just not good looking but a good actor and has completely fit into Hari Babu's image. He has two different phases, once when he is a young boy, then in college and how he transforms into an Army man. Varun Tej is tall and I am tall too but he had to bend a bit for me.
Getting into the skin of her part

So early in my career, am getting a hard core and yet unconventional role. It was a dream come true. The name is normal 75 years ago, Rajakonda Sita Devi is a big Zamindar's daughter, very rich, goes to college, sweet, innocent and falls in love. She has strong values, doesn't adhere to society's rules and regulations and has her own mind, beliefs and principles, even if the world goes against her. The expression of love at that time is completely different then, very subtle and very intense, cannot be expressed in words. It is slightly different from what we see today. My costumes are done by Aishwarya, the producer's wife. They went all out to research and also struck a balance between reality and cinema. They did not want to go too far and make it unreachable.
We first shot in Hyderabad, sets like Madras Cultural Club, before Independence with jazz music. Sita Devi was way ahead of her time, in terms of thinking, dressing, outgoing. On her birthday, she goes to the club like what you saw in the trailer. The era so authentic with the chandeliers and the pianos. Baba Sir recreated it so well. There was a palace, like a house where we stayed, me and my family. We also went to villages like Palakollu, Thatipaka, because they had the Brahmin houses which looked authentic. The second schedule was in the villages. Then a big period was in Georgia, where the war sequences was shot including the songs. The equipment war, actual guns, artillery, tanks were found there. You increase your knowledge as an actor with this. Even if my history is not brushed up, you have a great team to help you with it.