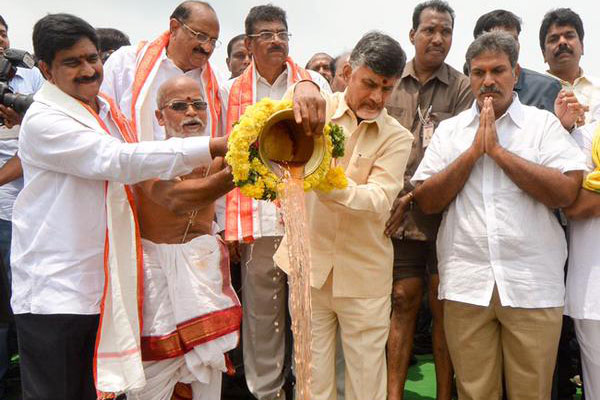 While opposition parties call the state government's Godavari-Krishna linking as fraud and can't be called interlinking of rivers at any stretch of imagination, chief minister Chandrababau Naidu is planning to convert the Pattiseema Project into a pilgrim centre. Pattiseema, according to Naidu, has made the linking of what he calls mighty rivers of South India Godavari and Krishna possible. He boasted this even  to Singapore Prime Minister Lee Hsien Loong yesterday. According to sources in the government, Naidu is planning to take a bus load of farmers from each district to Pattiseema Lift and Polavaram righ branch canal. And the government has earmarked Rs 50 lakh for each district for the purpose of Pattiseema Pilgrimage and associated awareness creation.
Naidu's objective is to burn the idea of interlinking of Godavari-Krishan into the minds of people of Andhra Pradesh, as  a greatest feat, achieved by TDP government. This is all to educate the people of the state on the need to link various rivers and divert the water to deficient regions like Rayalaseema in order to achieve drought proofing of Andhra Pradesh, says TDP sources.
The Government has embarked on a campaign from October 2, to December 3 to create the awareness on Drought Proofing, Inter- linking of rivers, Water Conservation, Water Management and Plantation. The campaign envisages active participation from all sections of the society besides various Government departments at village , mandal , district , state level, high schools, colleges and universities. During the campaign period discussions , debates and other competitions will be held  for students, farmers, NGOs, Water Users Associations(WUAs), public representatives, Government departments etc. on  drought proofing, inter linking of rivers, water conservation, water management and plantation.
The winners of these competitions will be taken to Pattiseema on pilgrimage. Instructions have been issues to the chief engineer and superintending sngineer, irrigation, who are in charge of Pattiseema Project works, to make necessary arrangements for conducting the awareness tours at the project site and facilities to the visiting pilgrims.