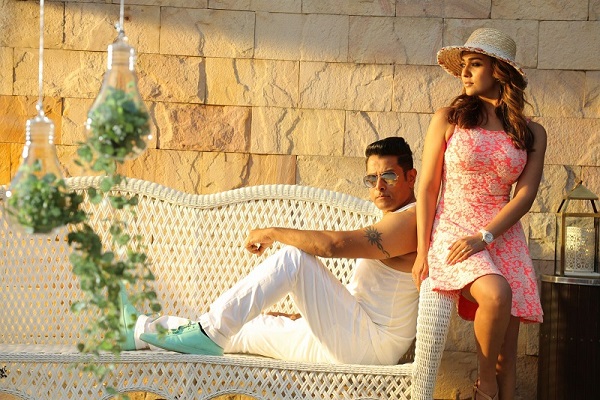 Inkokkadu Review, Iru Mugan Review
TELUGU360 Rating 2.25/5
Story:
Supposedly a science-fiction thriller, Inkokkadu story revolves around a mysterious power boosting drug called 'Speed' , a baddie named 'Love'( Vikram) who produces this adverse drug , and a RAW agent Akhilan ( Vikram).
After the Indian embassy in Malaysia is attacked, India's premier investigation agency RAW reaches out to its ex-undercover agent 'Akhilan' and requests him to investigate the incident.
Four years ago Akhilan and his wife Meera ( Nayanatara), both investigating officers, tried to bust the drug manufacturing empire of 'Love' in Kashmir. In that operation, Meera was killed, as revenge Akhilan thinks that he killed 'Love'.In current day, after initial investigation in Indian embassy case,he finds that 'Love' was not dead.
Rest of the story is about how 'Akhilan' and 'Love' confronts with each other.
Analysis:
These kind of fictional stories have an advantage to mesmerize the audience with their wider scope including racy narration, smart action episodes, also have acceptance of audience for cinematic liberties. Also, there is ample scope to incorporate some imaginative sequences.But,ironically director Anand Shankar doesn't seem to be in content with any of the above said parameters.On paper,the story seems interesting, but the execution falls flat and clueless at times.
This kind of theme gets acceptance from audience only if proper homework is done. In one of those scenes, Nayanatara tells Vikram a way to crack secured Malaysian government info systems. Guess what? She tells pressing Ctrl + Alt + Del + 3 skips you from the authorization window, and provides access to the secured systems.In another scene, Nayanatara image searches for a criminals' matching details in "World Popularity database". Similarly there are many other laughing stock points in the movie.Though the concept of 'Speed' drug appeared interesting initially, it fizzles out as the movie progress.There is not much comedy in the film to keep the audience interested.
Nitya Menen plays RAW agent Aarushi who is a case officer to assist Akhilan. Her role is very limited.One of the finest actors of our time, Chiyaan Vikram is wasting his prime time career with poor selection of scripts. Instead of preferring to wear complicated getup roles, he should focus on stories that appeal to audience. His performance as Transgender character name 'Love' is worth admiring. He portrays the body language of transgender with ease. Also, he looked cool as a RAW officer.
Cinematography, Action choreography are good but songs are a big let down. Except Halena Hale Hale Halena , no other song is watchable on screen. On the whole, the director's inability to handle the script is visible through out.
Positives:
– Chiyan Vikram's performance in both characters Akhilan and Love. He is the show stealer.
– Couple of action episodes
– Halena song
– Basic point is interesting
Negatives:
– Poorly conceived scenes
– Insipid fiction elements such as mystery drug
– Characterization of 'Love' is not consistent
– Bad second half

Verdict:
First half of Inkokkadu/Iru Mugan is OK with decent story establishment and action episodes. It is the second half that totally spoils the show. Overall, Inkokkadu is yet another disappointing fare from talented actor Vikram. One can wait for DVD. The box office prospects look very bleak.
TELUGU360 Rating 2.25/5