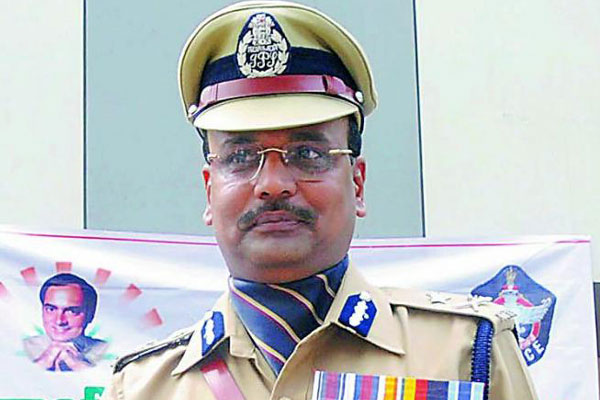 (S.Ravi Seshu)
Even as businessmen, common public and a section of politicians are celebrating the 'encounter' death of dreaded renegade Nayeemuddin, Telangana Rastra Samithi government transferred State Intelligence Department chief B. Shivadhar Reddy, who is credited for the highly secretive operation of the recent years.
Shivadhar Reddy, an Inspector-General of police, was in praise by Nayeem's victims and media for the elimination of the Maoist-turned-Mafia don but his seniors are apparently miffed at the way he carried out the operation by keeping them in dark. It is widely believed that Shivadhar Reddy, his deputy Vishwanath Chennappa Sajjanar masterminded the operation with the backing of the Chief Minister KCR and reliable sources said that the even the top cop had no clue about this pre-dawn action.
Though it is not clear whether KCR had a plan in shifting the intelligence chief but many cabinet ministers too shocked by the decision. The son-in-law of late Kallem Yadagiri Reddy, a prominent TRS leader from Nalgonda, Shivadhar Reddy, has been made the IGP (Personnel) and the Cyberabad West commissioner of police Naveen Chand is going to replace him. Hot-blooded cops don't feel IGP (Personnel) as an important position to hold.
An equally competent Naveen Chand had supervised the Nayeem case with the Narsingi police where his den was unearthed. In a related development, Shivadhar Reddy's deputy in the intelligence department, N. Siva Shankar Reddy, has also been shifted to CID. "We don't know whether KCR wants to tackle caste equation in Nayeem's case by keeping two Reddy officers away from the key assignments. Mind you, many of Nayeem's dosths, especially in politics, are from the same community in Nalgonda district," an analyst said.
Dr T Prabhakar Rao, a 2001 batch IPS and DIG of Warangal range, has been posted as DIG Intelligence while Sandeep Shandilya, (1993 batch), has been made Cyberabad commissioner.