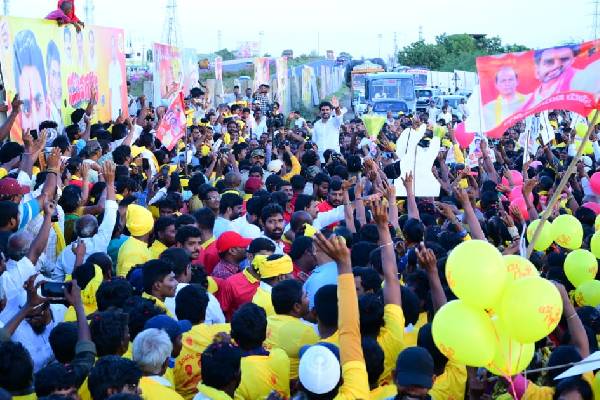 Andhra Pradesh is unfortunate to have a Chief Minister like Mr Jagan Mohan Reddy, remarked TDP general secretary, Nara Lokesh, on Sunday.
The villagers of Jayanthiramapuram of Vinukonda Assembly segment in the combined Guntur district, in a memorandum submitted to Lokesh during his Yuva Galam pada yatra, pointed out various local issues. Responsing to them, the TDP national general secretary said that it is the misfortune of the State to have Jagan as the Chief Minister, who could not take steps even to meet the drinking water needs of the people.
Lokesh promised the villagers that the coming TDP government will take measures to permanently solve all the land disputes. Permanent right will be given to those who have been cultivating assigned lands since long, he said.
Condoling the sudden demise of the most popular folk singer, Gadar. "I am shocked to know that the renowned balladeer and popular folk singer Gadar is no more. My deepest condolences to the bereaved family members," Lokesh said in a press note released during the pada yatra on learning about the death of Gadar.
When the villagers of Mellavagu complained that since there is no transport facility to the Tandas, the children are not showing interest towards education, Lokesh said that education has become a distant dream to over four lakh children from rural areas due to the wrong decision taken by Chief Minister, Jagan Mohan Reddy, to merge the educational institutions. There is a lot of negative impact on the lifestyle of tribals in Tandas after Mr Jagan has come to power, Lokesh said.
Promising to set up residential schools in Tandas immediately after the TDP forms the next government, Lokesh said that the water problems of the area too will be resolved.