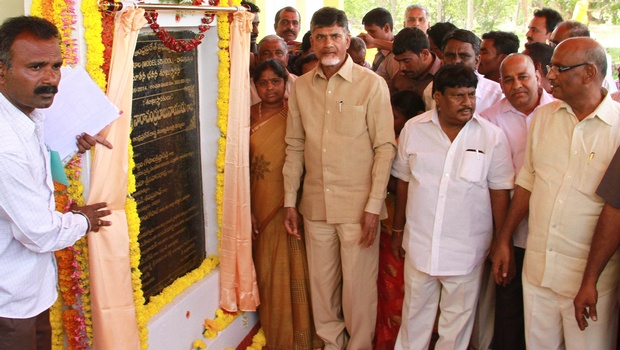 On one side, government is looking towards Delhi for special financial package stating that state is deprived of revenues after the division. But, it's almost raining money in crores in Kuppam constituency, one of India's most pampered constituencies. The constituency is represented by none other than chief minister Chandrababu Naidu. Though the constituency has joined select club of VIP constituencies long back, it suffered neglect between 2004-2010 during the Congress regimes. Now, after the return to power, Naidu is working hard to make Kuppam, probably India's number 1 VVIP constituency.
On Thursday, chief minister Naidu launched developmental works of worth Rs 1000 crore in the constituency on a single day.
The CM laid foundation for laying of 325 KM long cement and black topped roads in the constituency at a cost of Rs 285.55 crore. He laid another foundation for construction of NAAC building at costing Rs 17.61 crore. He started the works of widening of National High from Plamaneru, Krishnagiri to Tamilnadu border. This project costs Rs 271.45 crore. Naidu also laid foundation for the construction of Kuppam branch canal of Handri-Neeva at cost of Rs 468.53 crore. Naidu also launched the works of laying link Road between Krishnagiri and Dravida Viswavidyalayam at an estimated cost of Rs 8.40 crore. He launched the ambulance service with vehicle bought from the MPLADS of Chittoor MP.