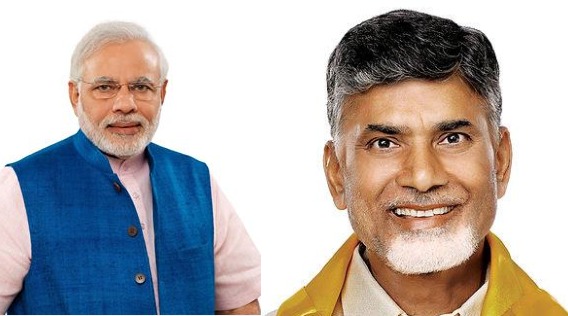 The proposed summit meeting between Prime Minister Modi and AP chief minister Chandrababu Naidu, even though it is postponed today, is crucial for the smooth sailing of Naidu's government in the rest of tenure.
The meeting originally scheduled at 4 pm on August 20,2015 is postponed. According to AP chief minnister's office, tomorrow's meeting was cancelled due to unavoidable reasons by the PMO itself.
The CMO sources said the PMO had indicated August 25, 28,29 and 31 as possible dates for the meeting and asked the CM to choose one of these dates for the meeting.
The date is not important here. If not on August 20, the PMO and CM have invariably to meet on some other date in the next couple of days. They can't abdicate their responsibility to clinch the issue as five crore people of Andhra Pradesh are eagerly waiting for the outcome of the meeting.
So far, Naidu used to buy time stating that he would persuade Prime Minister to announce a package if not the special category status. Now a moment of truth has arrived for Naidu to prove his persuasive skills at 7, RCR. Bihar package worth Rs 1.25 lakh crore, pushed Naidu into a situation where he has to settle the "special" issue this way or that way.
Now, he can't hoodwink the people of Andhra Pradesh stating that he is still talking to prime minister or his central ministers are on job or reiterating that Centre has the responsibility to help the state etc. And also, it is high time that BJP demonstrated its sincerity in helping a state where, of course, the party has never been a force. In fact, Bihar package has earned Modi more brickbats than bouquets as this was announced when the state is set to enter election mode.
Social media is agog with jokes on Modi. So, similarly it all depends on Naidu's ability to extract some benefit, lest he would also become a butt of joke in social media and punching bag in state Politics.
Already, PCC president Raghuvira Reddy, sarcastically showered blessings on Naidu and hoped that the CM would not come back with his hands empty from his summit meeting with PM. AP Congress, though absent in Assembly, has a huge presence outside the house and has enough energies to create trouble for Naidu. YSRC Congress took a different angle, stating that he was going to Delhi only to save his skin in the cash-for-vote scam and not for fetching anything to the state. Naidu has to prove that he had no other business in Delhi than forcing the PM to announce what has been promised for the state.
Left parties also waiting for an opportunity to pounce upon Naidu for slowly transforming yellow TDP into saffron . So, Naidu's meeting with PM at the month-end has the potential to make or mar the future of TDP in the state.