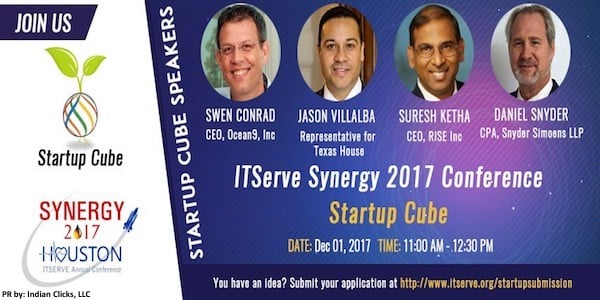 Startup-Cube is a consortium for young entrepreneurs and CEO's at the event Synergy 2017.
ITServe Alliance is a renowned and largest association of IT Services, Staffing and Consulting Organizations is organizing Synergy 2017 Startup-Cube, a consortium for young entrepreneurs and CEO's of various startups at its event Synergy 2017 scheduled on November 30 and December 1st 2017 in Houston, TX.
ITServe Alliance is the voice of all prestigious IT companies with nearly 750 + members functioning with similar interests across the United States.
Startup-Cube creates a platform for young entrepreneurs to present their innovative ideas to the entire IT industry. It is a unique version of "Shark Tank" where 20+ entrepreneurs with ideas will have an opportunity to pitch their offerings to a panel of business leaders and venture capitalists.
Startup-Cube consortium provides an opportunity for startup entrepreneurs to get exposed to the insights into the latest IT market trends, know about the innovations in talent services market along with obtaining exhaustive mentorship support that is crucial for any startup company.
Talking about Startup-Cube, Sandeep Kilaru, Startup-Cube Chair said, "It's an opportunity to young entrepreneurs pitching their offerings through Startup-Cube at the Conference, to present their ideas to 1500+ top executives like CEO's and CXO's in the IT industry along with other thought leaders from more than 1000 companies across North America who are looking for innovative ideas.
This extensive reach through Synergy 2017 Startup-Cube connects young entrepreneurs and investors to convert great ideas to reality with Mentorship and Funding."
About ITServe Alliance: It is one of the largest associations of IT Services Organizations. The alliance is the voice of all prestigious IT companies functioning with similar interests across the United States.
Through the years ITServe has evolved as a resourceful and respected platform to collaborate and initiate measures in the direction of protecting common interests and ensuring collective success.
ITServe Synergy 2017 BIGGEST IT Conference
ITSERVE SYNERGY 2017 CONFERENCE is an information-rich event which provides owners and executives with strategies and solutions that addresses the unique needs of IT Solution & Services Industry.
This Year, ITServe Synergy2017 Conference is scheduled at Houston, TX on Nov 30th and Dec 1st2017.Conference Registration is Open. Please visit our Synergy Portal www.itservesynergy.org for registration, conference schedule, speakers, and sessions.
Conference Registration: http://www.itservesynergy.org/pricing –> Click on Registration
Sponsor Registration: http://itservesynergy.org/sponsorregistration
If you have any questions, please reach out to our customer service at 281-724-4561, or email us at synergy2017@itserve.org
Press release by: Indian Clicks, LLC