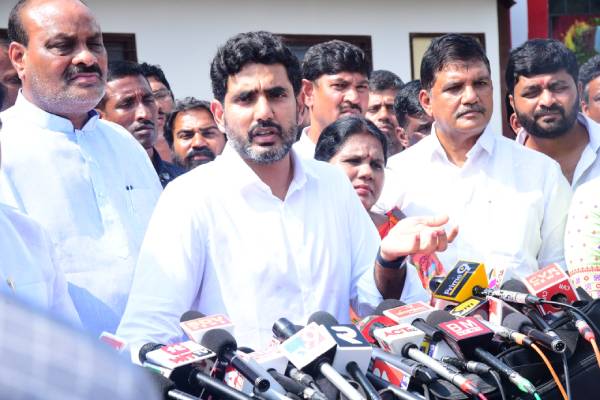 Regretting that Chief Minister, Jagan Mohan Reddy, has fast turned Andhra Pradesh into a violent State, TDP general secretary, Nara Lokesh, on Tuesday said that the Chief Minister is adopting a completely vengeful attitude towards the Opposition parties.
Lokesh, the president of the State unit of the TDP, Kinjerapu Atchen Naidu, and others called on the Governor to submit a letter detailing the prevailing situation in the State. Talking to the media at Raj Bhavan after completing the 45-minute-long meeting with the Governor, Lokesh said that they have informed the Governor that false cases are being foisted against their party supremo and former chief minister Chandrababu.
"We also explained to the Governor how Jana Sena chief Pawan Kalyan was prevented from entering Andhra Pradesh," he said. Stating that the Governor is briefed that 260 cases have been registered against the TDP leaders, Lokesh said that they also informed him how the downtrodden sections of society are being harassed.
Also, the attacks on the judiciary and how Chandrababu has been arrested without taking into consideration the Section 17-A of the CrPC, are brought to the notice of the Governor, Lokesh added. Making it clear that he will never get scared of anyone, Lokesh said that the people are now ready to wage a war against this 'unruly' Government.
The TDP will decide the future course of action after getting clarity on the cases pending before the courts against Chandrababu, he said that a TDP team led by Atchen Naidu will meet the Chief Electoral Officer (CEO) on Wednesday to explain the irregularities in the voters lists. Observing that Chief Minister, Jagan Mohan Reddy, is an accused in 35 cases, Lokesh said that the YSRCP accounts clearly mention that Rs 150 cr has been paid as advance. "Where did this money go, paid in the name of advance," he asked.
Lokesh said that the TDP's alliance with the Jana Sena has almost been finalised and the joint election manifesto will be released soon. Both the parties will soon take up agitational programmes on the prevailing drought situation in the State.