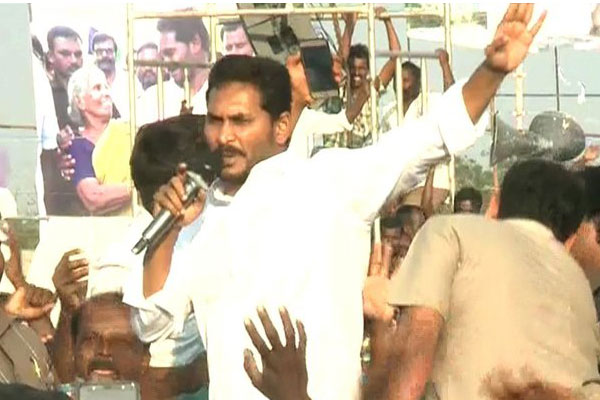 Opposition leader Jaganmohan Reddy made a battle cry asking his party leaders and activists to get ready for the coming general and assembly election. He kicked off his party campaign at the Samara Sankharavam public meeting held at Tirupati. The party cadres considered this as an auspicious place to begin the event from the abode of Lord Venkateswara Swamy. Jagan made a non-stop attack on AP CM and TDP chief Chandrababu Naidu on the occasion.
Jagan made a strong appeal to YCP cadres to fight back the plans of TDP as it is getting names of YCP sympathisers deleted from the voters' lists. Fake election surveys are being conducted to know details of the YCP activists in many parts of the state only to remove their names later.
Jagan says there is the yellow media behind the fake election surveys which are intended to benefit the ruling TDP and this should be countered effectively. He deplores that Naidu is showing cinema after cinema to the AP people by making false promises at the time of 2014 election and afterwards. Jagan appealed to YCP cadres to get ready to defeat the TDP as the election notification is expected soon.
G.Ravikiran
Telugu360 is always open for the best and bright journalists. If you are interested in full-time or freelance, email us at
Krishna@telugu360.com