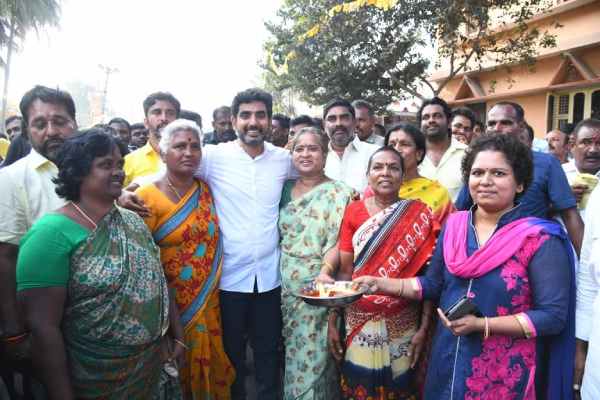 TDP general secretary, Nara Lokesh, on Sunday said that Chief Minister, Jagan Mohan Reddy, is afraid of people and thus he always moves in public places behind curtains.
Lokesh had a meeting at Thavanampalle of Puthalapattu Assembly segment as part of his ongoing pada yatra 'Yuva Galam' where he said that Jagan is more scared of the CBI.
"If you want a better future for the youth in the State and if the youth should get jobs, this psycho should be out of power immediately and the cycle government should come back," Lokesh remarked.
What is the fun in organising the Naadu-Nedu programme as there are no basic facilities in the schools and other educational institutions, Lokesh asked and stated that at least 17 cases are filed against him now as he is moving among the people. "I am not scared of such false cases," he said.
Terming Jagan as a liar who always takes the people for a ride, Lokesh dared the Chief Minister to come for an open debate as to who is behind several companies setting up their units in the State and who chased the companies out of the State.
"A Minister in the Jagan Cabinet himself admitted on the floor of the Assembly that six lakh jobs were created during the TDP regime," he said and observed that the people are now fed up with the YSRCP rule.
Representatives of Paramedics met Lokesh during the pada yatra. They informed Lokesh that there is no evidence that they have completed the community paramedics training since the certificates have not been issued to them, following which they are being subjected to frequent harassment by the government officials.
They appealed to Lokesh to take up the matter with the authorities concerned and also to recognise them as first referrals. Responding to their appeals, Lokesh said that the Jagan Mohan Reddy Government is completely ignoring the health sector and miserably failing in utilising the services of the paramedics in rural areas. He promised to take steps to resolve their issues soon after the TDP government is formed again.