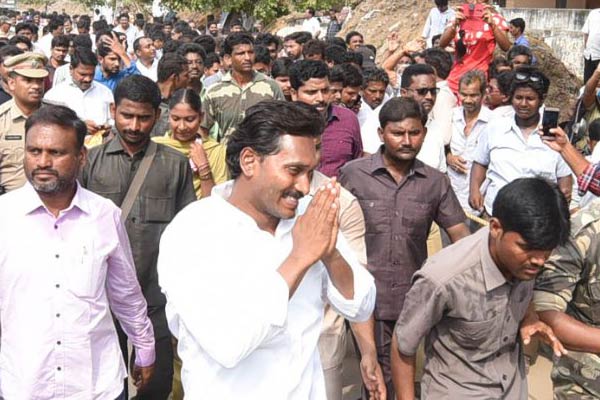 YSR Congress Party president YS Jagan Mohan Reddy would cross the 2,000 km milestone as he enters West Godavari district on May 14 and the Party would carry out padayatras at all mandals to express solidarity to the Praja Sankalpa Yatra and highlight the failures of Chandrababu Naidu government besides picketing the Collector Offices in the name of Vanchana Garjana.
Speaking to reporters here on Friday, party MP YV Subba Reddy said, ' on May 14 and 15 party cadres across the state would hold padayatras wearing black badges protesting against the TDP failures, including the assurance on Special Category Status (SCS) and other issues mentioned in the State Reorganisation Bill.
The cadres would highlight the Navaratnas and how they would benefit all sections of people and on May 16 the party leaders would picket the district Collector offices across the state in the name of "Vanchana Garjana" to submit a memorandum stating how the government has failed on all fronts.
The assurances given to various sections were not fulfilled. Farmers' loans were not waived, despite being a coalition partner, there were no sincere efforts on SCS, Polavaram, which was to be completed by Centre, was taken over by State for kickbacks and it was left in the lurch.
Farmers were not being getting MSP for a single crop, medicare and fees reimbursement schemes were not properly being dispensed. The two allies of TDP, BJP and Jana Sena have been critical of the ruling party which shows the state of governance, he said.
Corruption has been rampant and law and order situation has deteriorated in the State.
Chandrababu Naidu nominating the spouse of Maharashtra Finance Minister to the TTD Board which makes it clear that he had been maintaining liaison with BJP to save his skin and it shows his guilt on the various corruption charges he has been facing.