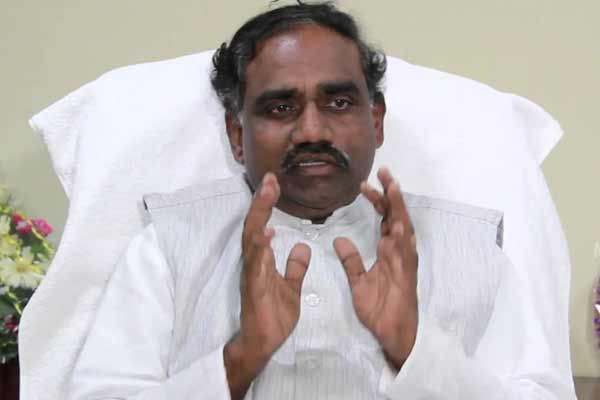 Andhra Pradesh social welfare minister Ravela Kishore Babu came down heavily on opposition leader YS Jaganmohan Reddy for his indefinite fast and said Jagan was more interested in spoiling the image of the state rather than getting special status to Andhra Pradesh.
Reacting on the Jagan's fast in Guntur on the second day , Kishore Babu, who also hails from Guntur, said Jagan's fast had no support from his own MLAs . " Rayalaseema people are unhappy with Jagan as he is not taking up Rayalaseema cause and North Andhra people also not happy because he is not talking about their problems. The fast is a unilateral decision of Jagan in the party," he said, advising Jagan that the opposition leader should first win over the hearts his own MLAs and party workers.
Ravela alleged that Jagan had sit on the fast only to vitiate the atmosphere before the foundation laying ceremony of the Amaravati capital. " The event is being organized as global event of Telugu Pride. Hundreds of national and international dignitaries, including the Prime Minister Modi, are coming. Instead of joining us to make the program success, he is planning to create confusion and law and order problem in the state," the minister alleged.
The selection of Guntur as the venue for the fast itself was an indication to his ulterior motive, he added. Kishore Babu charged that Jagan collaborated with Telangana chief minister KCR in creating problem for Telugu people and Andhra Pradesh government in Hyderabad. " When the state government was fighting with TS government, instead of standing by the government, Jagan chose to join hands with KCR and tried to sabotage the interests of the Telugu people," he said. If Jagan was really serious of getting special status to Andhra Pradehs, Kishore Babu, said, he should have gone to Delhi and met PM and other Minister to put pressure on them.
"Has he ever visited New Delhi to meet the PM on the special category issue? Has Jagan ever raised the issue with any union minister? No," he said.
"Now, on the eve of foundation laying ceremony, Jagan wants to create law and order problem and spoil the prestigious issue. We won't allow this to happen," Kishore Babu warned.