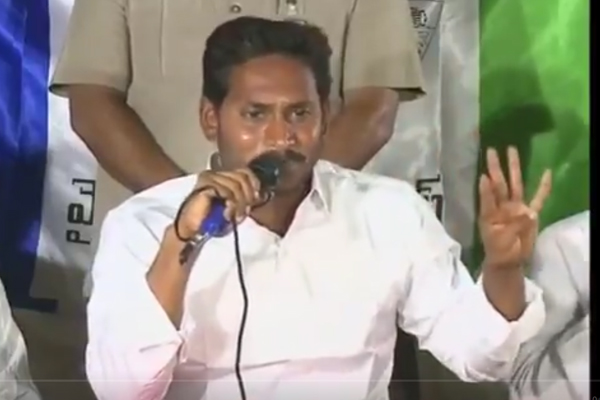 It is known news that YSR CP chief Jagan fired salvos on Pawan Kalyan today and he went on to make personal comments on Pawan Kalyan as he said Pawan Kalyan has four wives and doesn't have any moral values. however analysts and observers opine that Jagan made another strategic blunder buy personally targeting Pawan Kalyan just before his tour in Godavari districts.
It is known news that Pawan Kalyan is resuming his tour on Wednesday from West Godavari. As everyone knows Pawan Kalyan has strong fan base in these districts. Actually Pawan Kalyan was about to start his tour on Tuesday itself but party General Secretary Thota Chandrasekhar gave a media announcement that Pawan Kalyan postponed his tour by one day in order not to disrupt bandh by YSRC party. He clearly said that, even though Pawan Kalyan fans and Janasena cadre do not directly participate in this strike, janasena is morally supporting this strike.
Despite all this, Jagan made strong personal comments on Pawan Kalyan that did not go well with his fans as well as general public as they feel such cheap comments are not in sync with the status of Chief Minister candidate. With this, there has been general curiosity among people on how Pawan Kalyan will counter Jagan in the tour tomorrow as Pawan is not the kind of person who takes easy such comments. This curiosity among general public is actually going to help Pawan Kalyan tour.
Secondly, this kind of unilateral negative comments actually consolidate other persons sympathizers. To be frank, not everyone in the state is Pawan Kalyan fan. But when other person stoops down to make cheap comments like this, people who are not his fans also get miffed with such comments and sympathize with him.
Thirdly, some channels that have been avoiding news of Pawan Kalyan in recent times, also scrolled Jagan negative comments prominently. Surprisingly Jagan's own Channel Sakshi underplayed these statements and that itself proves what kind of value these comments have.
Overall, this episode again proved Jagan is self-goal master and this latest self-goal is one of his classics.