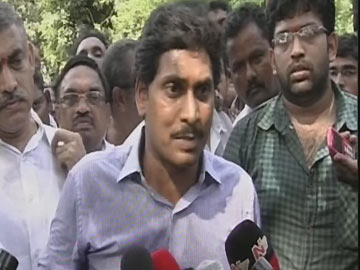 Leader of Opposition YS Jagan Mohan Reddy said the judicial  inquiry ordered by the State was only to cover up the failure and misdemeanor of Chandrababu Naidu for ignoring the VIP ghat and opting for the main ghat to offer Pushkar puja.
"The inquiry is only to save the skin of the Chief Minister and to come out unscathed by making some officials as scapegoats and it serves no purpose. It is obvious that the incident occurred as the devotees were bolted for over three hours and the single entry was opened after Naidu left the spot," YS Jagan Mohan Reddy said in Kovvur, West Godavari district, on Wednesday.
Had Chandrababu Naidu honored the protocol and took the bath at the VIP ghat the mishap would have been averted he said adding that since  he had ignored it, he should be held responsible for the death of more than 30 persons who died in the stampede.
"When the gates were opened after testing the patience of the devotees for over three hours, the surge was fast and furious and in the melee stampede occurred which claimed over 30 lives. Only Chandrababu Naidu should be blamed for the tragedy," he said.
Had it been someone else, the person would have been jailed by now. He is directly and indirectly responsible for the deaths, he said.