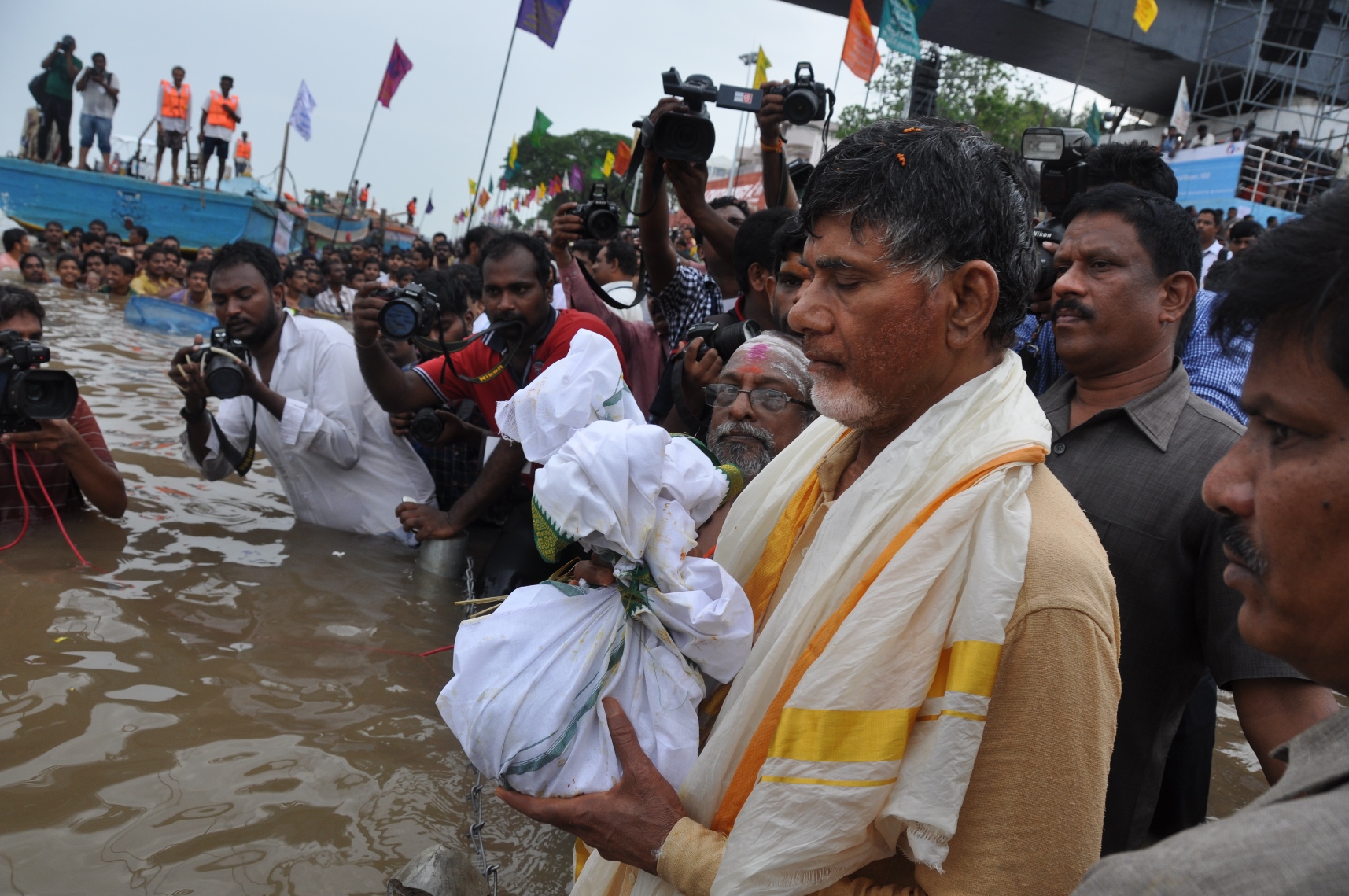 Why was the main pushkar ghat closed for more than two and half hours yesterday in Rajahmundry, minutes before the stampede crushed about 30 people to death?
According to highly placed sources in the government Naidu was busy with National Geographic (NG)which was commissioned to make a documentary on the entire pushkaralu revolving around chief minister Chandrababu Naidu. National Geographic was given contract  for an unknown amount to do the program starting from July 14 to July 25. The NG will produce a 40-minute documentary on the glory of  Godavari  Maha Pushkaralu and it will aired after the closure of the Pushkaralu. Even though the documentary is about Godavari, it would depict  chief minister Naidu as central figure promoting the Telugu culture and marketing  the state abroad to attract the investor towards Andhra Pradesh.Similarly a Telugu director has also been entrusted with the work of making another documentary for state government.
As the inaugural day is  important for the documentary,  NG crew wanted to film the  CMs' offerings prayers to River Godavari elaborately and it took longer time than expected. The crew  was asked to shoot the chief minister at main ghat as the chief minister's men expected  more devotees at the ghat which is located nearer to Godavari railway station. So, Naidu was asked to take holy dip at the main Pushkara ghat in stead of the  Saraswati Ghat  designated for VVIPs.
In normal course, the CM's holy dip should not take more than 30 minutes. As it was not ceremonial but meant for filming for documentary, the pujas have been performed leisurely so that every aspect of chief minister and his family participation recorded in minute detail, said  a senior official from Rajahmundry.
"Since CM was scheduled to visit the main ghat, all gates had been closed from 4. 30 early in the morning. The area was not barricaded because of a laser show organized at that place the previous night in which CM and his family were present. As the laser show went up to  10.30 PM, to facilitate movement of the VVIPs,  barricades were not erected. And devotees from North Coastal Andhra started pouring in large numbers at the venue since midnight. They chose this particular venue as it is located just few meters away from the Godavari railway station,' the official told Telugu360.com over phone.
All these devotees, the official said, planned to take an early dip in the river so that they could go back the next day.
Naidu's spin doctors chose this particular ghat  as they wanted NG film how  large crowds keep on waiting  for hours to have a glimpse of chief minister.  Because of this, it is learnt, CM's advisers are said to have brushed aside the advise of relief commissioner to the chief minister take holy dip in the Saraswati Ghat.
The general impression is that  had chief minister chosen the earmarked ghat, the gory accident would not have taken place.