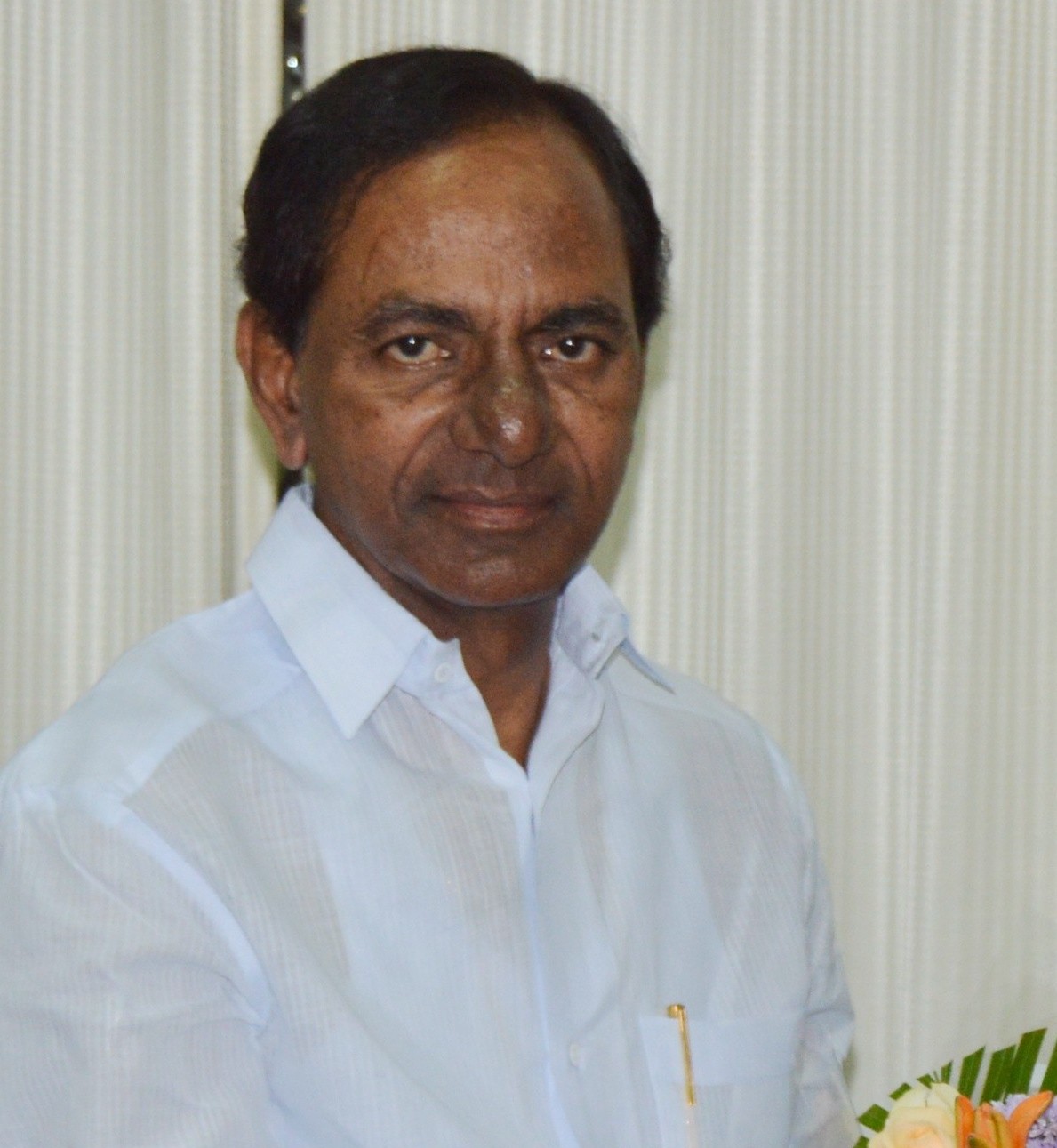 K Chandrashekara Rao is the first chief minister of Telangana state. He is also the chief of the Telangana Rashtra Samithi, which claims to have brought the state of Telangana from erstwhile Andhra Pradesh.
Born on February 17, 1954 in Medak district of erstwhile Hyderabad state, K Chandrashekar Rao is a post graduate in Telugu literature from Osmania University.
KCR started off his political stint with Congress as youth leader under the leadership of Sanjay Gandhi.  An admirer of legendary N.T. Rama Rao, KCR joined Telugu Desam Party in 1983 and contested as an MLA but lost. He later, won as when N.T. Rama Rao called for re-elections post Indira Gandhi's assassination.
KCR was made minister of drought and relief in N.T. Rama Rao's cabinet. He even served as TDP convener for Nizamabad, Adilabad and Medak district in 1990. After the fall of NTR, KCR continued in Chandrababu Naidu's leadership and became transport minister in 1996. He was the deputy speaker of Andhra Pradesh assembly between 2000-01.
KCR, who resigned to TDP in 2001 over discrimination meted out to Telangana region, has formed Telangana Rashtra Samithi in April, 2001. His party gained momentum in the region due to which Congress came forward and allied with TRS in 2004. The UPA, which tried to come to power in 2004, included the formation of Telangana in its common minimum programme.
Mr Rao was made the minister of state in the first term of UPA. The main agenda of the party—Telangana state—was pushed into the pipeline, which made KCR to resign for the post and ally with TDP in 2009.
In November 2009, KCR vowed before the public to bring Telangana state and underwent fast unto death. The student movement for Telangana state picked up during this period. The then union home minister Chidambaram, on December 9 mid-night, gave a media statement that the Government of India decided to form Telangana state and an appropriate resolution would be moved in the assembly.
Soon after the statement, KCR withdrew his fast and continued to fight for the cause until 2014. He even promised to merge TRS with Congress if Telangana state is carved out. He soon backtracked and said that he wanted to work towards 'Bangaru Telangana.' He sworn in as the chief minister of Telangana on June 2, 2014.