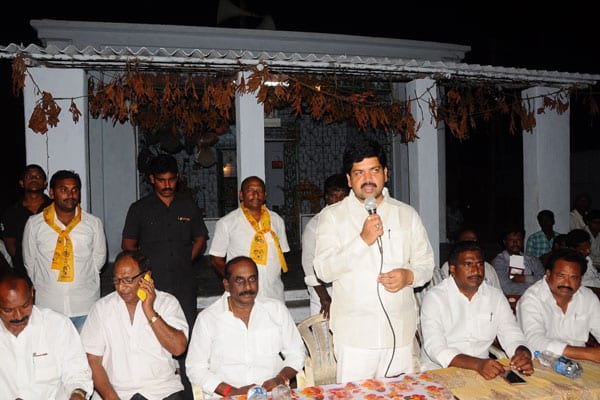 Machilipatnam: The historical and global famous Kalamkari and imitation jewellery industry around this port town will get world attention once again only with the completion of the Machilipatnam Port, said Minister for Youth Welfare and Sports, Kollu Ravindra. The Minister had an interactive meeting with the people of Manginapudi village who have given their lands for the port. The Minister said that the people of this village have given 146 acres of land to the government to build the port through land pooling system.
Machilipatnam, which was headquarters during the British period for the present six revenue districts, remained backward later on. The town is neglected by the successive governments casting shadow on the prestigious Kalamkari clothes and the imitation jewellery which are famous from this part. Kalamkari clothes are very popular across the world but lack patronage from the government. Same is the case with the imitation jewellery which looks like gold and is adorned by people in different parts of the world. However, the two arts remained in Machilipatnam town and with the families depending on them starving.
The Minister said that these two traditional art forms originating from this town would get global patronage once the Port begins its commercial activities. Minister Ravindra wanted people to support the government's plans for the port, particularly by giving the required lands. He wanted the people from the surrounding villages to follow the spirit shown by the farmers of Manginapudi who have voluntarily given their lands for the port.
The fishermen families in the town and its surroundings too would also get global marketing once the port is constructed, the Minister said and expressed confidence that people would support the government in its commitment to complete the work.
Local leaders Konakalla Jagannadha Rao, Lanke Narayana Prasad, Kagita Venkateswara Rao and officials from Revenue and Tourism departments were also present.