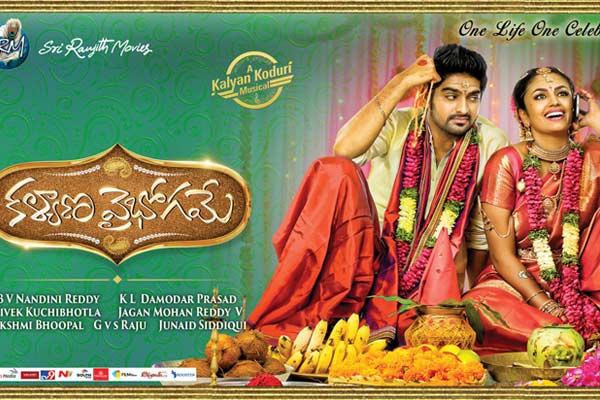 The season's most-awaited marriage-theme film "Kalyana Vaibhogame" released with unprecedented blitzkreig ahead of the marriage season kicking off. Packed with 24 actors, and songs galore, Nandini Reddy attempts a modern interpretation of the institution of marriage in 157 minutes using a contrived story that has been told umpteen times. What goes in her favor this time is a bulge in budget which infuses great production values, larger-than-life feel, and some genuine dosages of dialogues and laughs. On the whole, the film has an above-average feel which delivers few punches but mostly in the first half. The second half peters out into unnecessary ado about nothing and crawls with un-creative banalities.
The story is about two families who enter an alliance of arranged marriage between their wards – (Shourya) Naga Shourya and Divya (Malvika Nair) who have independent notions of freedom and career. Shourya is awaiting a million dollar contract from the US to go and settle there, Divya wants to do her own thing after MBBS. Both see many prospective candidates to settle down in life but ultimately decide that only both of them, Divya and Shourya are better choices for each other than others. They decide to jump into marriage to appease the elders but have a plan B – to get divorced after six months and be free again. That's where life's unintended consequences kick in with the magic of marriage kindling genuine love – leading to a happy ending.
The story is not new, but Nandini Reddy's treatment is mature and nuanced even if it lags at many places once the pathway to the main plot becomes self-evident at interval time. Using situational comedy, and plenty of soundbytes from elders like Raj Madiraju, Anand, Raasi and Aiswarya, Nandini creates a light-hearted romance that shows maturity of love post-marriage in a way that connects with the current generation. Dialogues by Lakshmi Bhupal create a resonance rarely seen in today's films, they combine the ice-candy words with evocative feel that makes a statement about lot of subtle changes sweeping India – the lavish marriage economy where crores are spent but soul is missing, the flirtatious ways of the Facebook generation, the silent suffering undergone by the eighty-plus elders who have become vegetables in the family backyard, the parents who give sermons who are downright depreciated and even manipulated by today's generation and the transactional friendships that define our daily lives.
Though there are resemblances to many films which explored this subject of post-marital love like "Sakhi", "Happy", etc., Nandini shows class in her direction. She spared nothing in her sweep of family matters, exactly taking off where she left making some points on arranged marriages and excessive gadget usage in her first film "Ala Modalaindi". You know what's coming next, but still can't help getting misty-eyed as a roller-coaster of emotions inter-mixed with some good songs takes over the narration. What she is trying to tell as a director is far more important than what she is actually telling – and this is the feeling that makes Nandini one of the most sensible directors to hit our screens in the last decade. There is a sub-textual goodness and lofty values that defines her characters and an unpredictability about how the characters play-off with each other unlike the adrenaline-oozing, cardboard images of heroes and heroines that most film-makers in Tollywood portray. Entertainment wise- few cameos by Thagubothu Ramesh, cloth-merchant Seenu and Pearle Maney are noticeable.
Performances-wise, Naga Shourya is fast and furious and packs a punch in few scenes but he pales before the arresting screen presence of Malavika Nair – that mesmerising girl in "Yevade Subramanyam". Malavika's looks and dodgy personality show a lot of feminine beauty and grace. She is not conventionally beautiful but her eyes convey a lot without saying much. She is not loud like Nitya Menen and wears her persona without effort – sure to get more roles after this. Raasi, the yesteryear's heroine gets a great comeback role as the heroine's mother and she pulls off a memorable performance as a wife under constant leash and a mother who can still instil respect in her daughter. Aiswarya always shows skill at projecting her unpredictable side and in this film too, she shows her live wire performance as a finicky mother of the bridegroom who gets all worked up, her voice is awry but perhaps suited to the loudness of her character. Anand, the second hero in Mani Ratnam's "Donga Donga" gives a mature performance, he got under the skin of a concerned father of the girl well which tells a million things about the fate of many fathers like him. The actor who steals the show is Raj Madiraju, who plays father to Shourya. As a new-age father who is both tech-savvy but extremely emphathetic of others, Raj dazzles with a performance that will be talked about for a long time and also bag him many roles. His acting has lot of flair, natural ease and a rafty voice that gets your attention. Tollywood should be looking more towards these kind of actors who act like pros but also give us dimensions in acting unexplored before. Otherwise, we will be at the receiving end of over-exposed and over-paid actors who bore us with familiar body-language and antics. Why do we need actors like Rao Ramesh and Prakash Raj who cannot re-invent themselves or paint a new canvass with each performance?
Music by Kalyan Koduri is good in parts. It is certainly not his best but he delivers another sensible album. Producers like KL Damodar Prasad must be congratulated for giving another clean film devoid of obscenities and in-sensibilities. Damu is a gutsy producer who either wants to offer sensible and entertaining films or not make movies at all. He doesn't have self-destructive obsessions to make films with every hero in Tollywood or create new records. His late father Ranjith Prasad during his hey days gave cinema which was commercial but entertaining with a clean feel (movies like "Cheekati Velugulu"). It is producers like Damu which weaves new excitement into Tollywood – they support intelligent and family-suitable entertainment. To the credit of Nandini Reddy, the film is squeaky clean and mostly engages your attention though the second half and parts of first half lag the narration. Her attention to detail and logic need improvement. In the film, the couple settle for arranged marriage but forge documents to get a divorce after one year when they actually spend less than six months – which cannot happen in real life – atleast the courts are not so dumb yet. The characterisation of the hero and the heroine is also faulty and the logic for a swift divorce contradicts the velocity with they fall in love afterwards. The independent spirit of the hero and the heroine was also never clearly established in the film which makes it unconvincing. Despite these flaws, the film delivers on clean entertainment and a good-feel at the end.