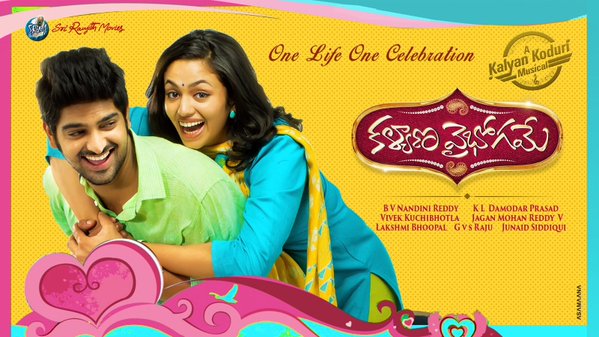 Kalyana Vaibhogame Review
Kalyana Vaibhogame Starring Naga Shourya and Malavika Nair has released today Friday March 4. Nandini Reddy who made her mark in Telugu Industry with her debut film , Ala Modalaindi , has directed Kalyana Vaibhogame. While Nandini Reddy's first film Ala Modalaindi was a Box-office hit with its realistic content , second movie Jabardast had flopped with its loud and over-the-top comedy. Now let us see what  her third directorial Kalyana Vaibhogame is all about..
Story :
Shourya (Naga Shourya) ,a 23 year old , a nonchalant character, is a video game designer by profession. One of his dreams is to relocate to New York City to execute a million dollar gaming contract. Ofcourse, he is a hard partying guy too. Lead lady Divya ( Malavika Nair) is a Medico at Gandhi College Hyderabad , who is originally from Vijayawada.She is very Tom boyish with her friends and in college, but very much dad's girl at home.She is brilliant academically and ambition is to move to USA to pursue career at reknown Johns Hopkins Hospital. Coincidentally, Shourya and Divya parents setup pelli chupulu ( arranged ofcourse) for these two who are unknown to each other. Having zero interest in entering into wedlock , they manage to avoid the marriage with mutual consent. But, their trouble grows as their parents keep searching for more prospective brides and grooms who are worser than first match( Shourya-Divya). One fine day, they meet again and decides to marry each other but to divorce after marriage. Thus they can pursue own ambitious career and avoid parents' pressure. Thus they enter into Marital life yet live-in relation only. Rest of the movie is about the consequences and the emotions – primarly told in an entertaining way
Analysis :
Strength of this movie lies with the characterization power of director B.V.Nandini Reddy. Her characters are realistic,bold and importantly honest. Only those who can read friends and relatives around us closely , and has the ability to present them back in the form of movie characters – can excel in directing this kind of soulful films. Nandini seems to have good understanding of new generation youth and it reflects. When you say Live-In relation ship theme, immediately there is ample scope for indecency, where as director not even tried to be indecent in any of those scenes.Kalyana Vaibhogame is a clean movie. The ambience created within and between the two protaganist families is feel good. The friendship and, due to proximity, the natural progression of friendship towards love has been dealt with sensibility and in a witty way. Importance of marital system and couple of scenes around that theme stands out.
Another aspect we should appreciate is : Usually, in movies, kids characters are good looking/cute/naughty child artists directors prefer. But, in Kalyana Viabhogame, the director presented us with a Down Syndrome, differently abled kid as the younger brother of the hero, as one of the regular characters within the family frame of the movie.
Overall, movie starts amateurishly and in slow pace but thickens as it progress. Chemistry between the lead paid worked big time.
All the songs are situational and shot well. They should have been better tunes.
Negatives are :  First 20 minutes Amateurish and Lengthy second half.  No strong reasoning been established to enter such hasty marriage-divorce relation.  Irritating dubbing for few female artists, especially hero mother character
Performances : Naga Shourya, Malavika and Raasi walks out with honors for their top notch performance in Kalyana vaibhogame. Naga Shourya has so ease in his performance.His comedy timing and emotional play all are natural and  never seen him with a wooden face nor overboard. For his age, he perfectly suited to the character. Malavika with her big eyes, very expressive in sensible scenes.
Yester year heroine Raasi did a perfect comeback role as character artist and sure she will be offered many more mother or mother-in-law roles. Anand, malayalee actor, as heroine's father did justice to his role. and same with hero's father role artist. Pearle Maaney as a model and Shourya's girl friend is OK.
Aishwarya as hero's mother is misfit casting and her dubbing annoys a lot.
Verdict : Though this movie has its own limitations in terms of pace, works well with urbane audience. Those who wants to watch a different kind of youthful movie go for it. It appeals to family audience as well for its clean and preaching content at times.Overall, entire team must be appreciated for delivering clean and entertaining "GOOD" movie, if not great.
Produced at shoe string budget, this movie should earn profits at Box-office
Telugu360.com Rating : 3.25/5
Cast : Naga Shourya,Malavika Nair,Pearle Maaney,Aiswarya, Raasi, Anand and Others.
Crew :
Music Director : Kalyan Koduri
Cinematographer : G.V.S.Raju
Editor : Junaid Siddiqui
Choreography : Chinni Prakash, Raju, Annie
Dialigues and Lyrics : Lakshmi Bhoopal
Producer : KL Damodara Prasad
Story,Screenplay and Direction : B.V.Nandini Reddy