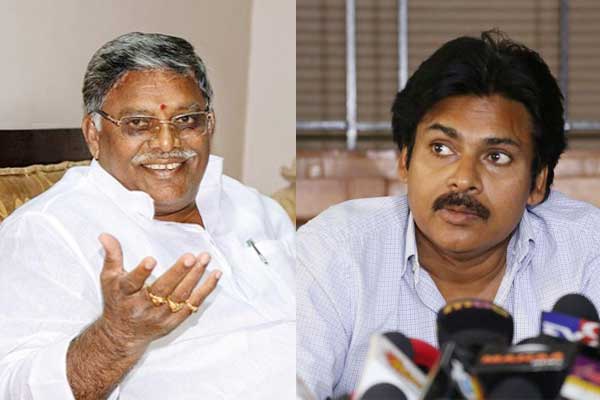 Senior Kapu MLA Jyothula Nehru was skeptical about what movie-star and Jana Sena President Pawan Kalyan said about his future political plans. Jyothula Nehru, earlier deputy leader of YSRC in Assembly,  joined the TDP differing with party leadership. A Kapu activist, Nehru was for political power for Kapus and quit TDP to join Chiranjeevi's Prajarajyam in 2008. When Chiranjeevi, after a electoral rout, merged the Prajarajyam Party with Congress , Jyothula Nehur chose to join YSRC and won the 2014 election as the nominee of YSRC from Jaggampet in East Godavari.
Now, Nehru said Pawan Kalyan was lacking in conviction and speaks different tongues- a serious remark indeed.
"Pawan Kalyan says one thing in Thullur and another in Hyderabad," Nehru commended when asked about his reaction on 'Power Star's political plans as revealed in the interviews to some Telugu news channels.
" I welcome Pawan Kalyan's full-time entry into politics," the third-term MLA said.
Nehru, however, was emphatic that he doesn't believe in what Pawan says.
" He is lacking in consistency. He makes contradictory statements," Nehru said.
Jyothula Nehru is not alone in holding this view on Pawan. Pawan Kalyan's political announcement has failed to enthuse many Kapu leaders. If you speak to a cross section of leaders from the community, you can gauge the skepticism among them about the political party of Pawan Kalyan. The reaction of Nehru that " today Pawan Kalyan makes an announcement and there is no guarantee that he would not change it tomorrow," will mirror to the general opinion of Kapu leaders on Pawan Kalyan, despite their respect for them. He statement about his full-time politics has not had not stopped anhy Kapu leader from joining TDP.