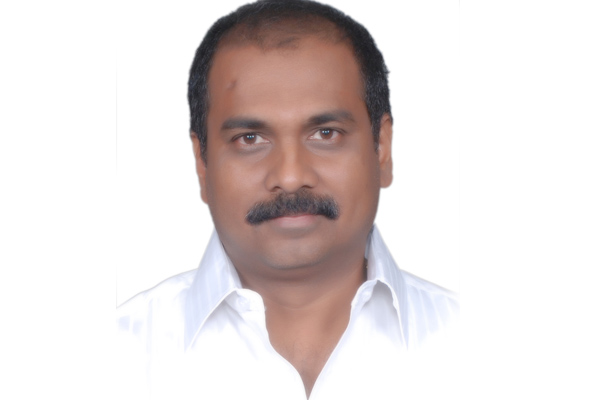 Telugu360  spoke exclusively with Mr.Kurasala Kannababu , who was a journalist by profession, a young and dynamic politician,  Ex-Kakinada MLA and Present YSRCP East Godavari Chief ,  about Kapu reservations and Mudragada hunger strike. Here are the excerpts :
Q: To begin with, can you please go through your education qualification and professional accomplishments?
My schooling took place at Maredumilli and Rampachodavaram in East Godavari as well as at Bhutala, West Godavari.  My college education, as a commerce student, took place at Rampachodavaram . And I pursued my PG in public administration at Vizag. I spent 18 years as a journalist.I began my career as a mandal level reporter and by the time I moved on to politics, I was working as a Principal Correspondent in EENADU. When I received an invitation from Chiranjeevi garu, I quit my job to join Praja Rajyam Party (PRP). Due to his encouragement, I was elected as an MLA from Kakinada Rural constituency.
Q: Where have you worked primarily?
A: I worked in Eenadu for 18 years; I also made my name as an investigative journalist during that time.
Q: When you were announced as an MLA candidate from PRP in 2009, the general public perception was " A reputed journalist, educated and non-controversial person is entering into the politics " and people hoped you should win. Were you aware of it?
A: Yes, and honestly I never expected to enter into politics. Chiranjeevi garu pointed out to me that if the society has to be improved, and then I have to step forward and do my duty on the right platform. Upon his encouragement, I ended up contesting as an MLA for the Kakinada Rural constituency and winning it.
Q: When the PRP  was being setup, did you request party ticket for election (or) did they initiate the process by counting on you as a good candidate?
A: Due to the acquaintance that I had with Chiranjeevi and Nagendra Babu, I used to visit them for discussing contemporary issues. In this way, my relationship with Chiranjeevi grew, he treated me like a brother.  He respects my opinions. Later, I gained more reputation as an MLA too with my work.
Q: In Assembly, you always stood out as one of the few who spoke very well  representing PRP. Can you explain your homework?
A: I gained a positive reputation for doing my homework on various issues while speaking in Assembly. Later, I also attended a Leadership Program at the Indian Business School as a representative of the government. At that time in 2012, there used to be a program called US Presidential Election watchers, in which US consulate selected a few young leaders from India to visit USA and closely observe the presidential election process. I was one of the six MLAs from India, and only one from Andhra Pradesh selected for this 21-day program. In those 21 days we had observed the way US election commission works; their parties' presidential campaign and fund raising etc. key process areas.
Q: India is the biggest, US is one of the oldest democracy. What is your take on key differences between these two countries' election process?
A: The differences are numerous and massive. It will end up being a big subject. So it is better if we talk about this topic independently next time
Q:  Sure, Let us go back to continue our talk about the times when you was an MLA
A:  PRP had then merged with the Congress Party. Then after a while, we had witnessed lot of historical events including state bifurcation, president rule. At that time I was active in Samaikhyandhra Udyamam. In 2014 elections, I didn't want to content on a congress ticket. Congress leaders including Chiranjeevi garu requested me to contest on congress ticket but I preferred not to contest on behalf of the party which had divided my state. I contested 2014 elections as an independent and got 44,000 votes but lost with thin margin. After that recently I had joined YSRCP party. Our chief YS Jagan garu trusted my abilities and appointed me as East Godavari District president for YSRCP

Q: Since the hot topic now in East Godavari is about Kapu Reservation, let us talk about it. Our request is to keep your party (YSRCP) stand away, and express your personal opinion on the whole issue.
A : Kapu Reservation issue should be viewed from socio angle, but if you treat it as a law and order issue, this cannot be resolved. From 1960 to 1966 there were reservations for Kapus in AP,  and after 1966  for various reasons then chief ministers removed BC status for Kapus. Then Vijaya Bhaskara reddy garu inclined to add Kapus in BC but it did not materialize. So, this issue is not a new one but 60 years old. The reason it is flared up again now is Chandrababu Naidu garu added this issue to TDP 2014 manifesto, but no concrete process has been initiated even after 18 months he came to power. Then, Kapus got suspicious about Naidu's commitment towards BC status to Kapus and the movement gained steam. After Tuni incident, things got flared up. Now, government is treating this as a law and order issue.
When Mudragada garu took up fast unto death last week i.e. second time, government has created panic in the district with the help of police. While disrupting Mudragada's deeksha , police had shown highhandedness on family members. They did not spare Mudragada's son , daughter-in-law nor even his wife. At the same time, government has censored media too. Also, police had arrested some Kapu youth , and if ladies sat for Dharna police did lathi charge on them as well. They are creating panic in the community. Government is handling the issue from political angle. If we treat this as a political issue or as law and order issue, this won't be resolved.  Government should think "why lakhs of people are responding to Mudragada's call ?". These type of restrictions only further flare up the things.
Q: When Mudragada first called for the meeting, few months ago, government gave him free hand. Only after Tuni Train incident and government properties damage had occurred, government turned stricter. Isn't it?
At that time the Chief minister, without proper investigation, concluded that  "Tuni train incident was caused by Kadapa goondas and  Godavari district people are innocent".  Then how come now they are blaming us and arresting Godavari district Kapus ?
Q :  When Tuni incident happened, to politically defame YSRCP as well , Chief minister uttered their name as the conspirators –  is the general opinion. Isn't it?
A : Correct, If Chandrababu Naidu  blames  YSRCP or Jagan  for each and everything , this is bound to happen. The main target deviates.
Q : When Mudragada garu did indefinite hunger strike first time, few months ago, what were the government's promises that made him to call off the hunger strike ? What are current round of hunger strike key demands?
A: Last time promises were : 1000 crores every year for Kapu Corporation, Government will not arrest any innocents in Tuni incident, only after complete and transparent investigation any arrests will be done etc. Also, Government said, For the first year 1000 crores were not given to Kapu corporation, so this year they will release 1500 crores. But, only 800 crores were allocated in budget. In addition, government is resorting to counter attack on Mudragada's hunger strike. As long as government look at this as vote bank politics, this will not be resolved. If TDP thinks, their  Kapu vote bank will be snatched away, if reservations given,  that will be wrong notion. Do not treat Mudragada's hunger strike as a single person's strike, treat it as a crores of Kapu community wish.
It is Chandrababu Naidu always start caste based politics. He had allowed SC caste ABCD classification demand to gain momentum ,which is still a dispute between the groups within SCs.
Q: Who called for Sunday's Kapu Caste meeting in Park Hyatt Hotel Hyderabad – which was attended by Congress and YSRCP associated Kapu leaders ?
A: It was unplanned. All the leaders attended who were in touch with each other, on the fly,  thought of meeting in person to discuss the situation.
Q: Was that meeting any indicator that Congress and YSRCP work together, in future, on issues ?
A: No.  There were couple of Kapu leaders from BJP also present there.  That meeting was irrespective of parties, all kapu leaders joined. Somu Veerraju said he would join for next meeting as he was in the Ahmedabad meeting on that day. Kanna Laskhminaraya garu was out of town , he could not join. Apart from politicians, reputed lawyers and IAS were also present. It is instantaneous one but not planned.
Q:  Why did Mudragada met all Kapu leaders in last two weeks, in Hyderabad, prior to sitting for hunger strike? Is this a pre planned strategy?
A: No, he did not inform us that he is going to  sit for hunger strike though he met all kapu community leaders in Hyderabad.
Q :  TDP , YSRCP both are trying to woo  26% Kapu Vote bank in AP. Now with  Mudragada or Chiranjeevi or both together is there a chance of  Kapus growing as third  force on AP arena ?   Whom do you think will be at loss ?
A :  Actually they do not have that kind of agenda,  Mudragada garu is not doing this hunger strike for political reasons
Q: KCR said the same initially, he said his party was mere a party for cause  with no political interest, while he was agitating for Telangana. Infact , at one point, he said he will dissolve the TRS party after attaining Telangana. But rest is history …
A: That is far-fetched idea. I don't think Mudragada  have such political plan. But, no one knows what is in store in future.
Q : Other than announced to public, is there any other significant developments  been discussed in all party kapu leaders meet ?
A: No, We decided to meet again after two days if government fails to resolve the crisis by that time. They are many leaders yet to join.
Q: Where are you at Kapu JAC for reservations formation?
A: Nothing been formalized yet, too early to talk about it. No discussion happened towards it.
Q: Is Mudragada emerging as leader for Kapus ?
A: No comments. Not the right time to talk about it, government is mishandling the issue.
Q: What do you think about  the top two – three demands of Mudragada to call off this hunger strike?
A : That is what government is about to discuss with them. We are asking to send crisis management team.
Q:  What is your opinion about Chiranjeevi garu participating in caste meetings? Don't you think it gives an impression to general public that he is confining himself to his caste?
A: That is wrong notion. Today he came forwarded to support Kapu's cause, tomorrow if any injustice is caused to any other caste, he will fight for them as well. Now-a-days people made Caste as a public thing which used to be something between four walls. If government is  playing caste politics, others  do the same too.
Q:  If  KAPU JAC is formed, being educated and articulative person, are you going to play an instrumental role ?
A: As I said earlier, it is too early to talk about Kapu JAC. It's up to the bigwigs of the community to decide.
With that, our long conversation with Mr. Kurasala Kannababu has ended and soon we will be  coming up with an another Interview about key differences between India and USA electioneering .