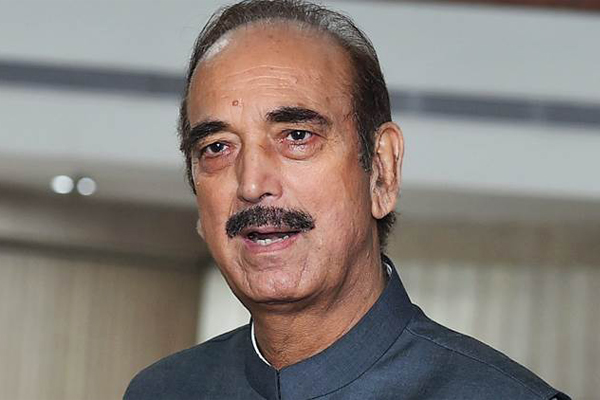 Political heat is picking up in Telangana as rival parties have intensified their mutual allegations and verbal attacks.
Congress virtually began a personal attack on TRS supremo and Chief Minister K Chandrasekhara Rao.
Congress Party national general secretary Ghulam Nabi Azad on Thursday said that KCR had cheated Congress party at the time of formation of separate Telangana and afterwards in various ways. If there is anybody who tells largest number of lies in the country now, it should be KCR, said Mr Azad, during his current visit to Hyderabad..
There is a valid reason for the Congress party's bitterness as KCR talked of merging with Congress till formation of Telangana but later took a U-Turn, contested separately during 2014 elections and claimed all the credit of bringing Telangana for himself.
The people preferred to put KCR in charge of what he talked of reconstruction of the state. Azad, however, said that KCR gave countless promises and raised lots of aspirations but after coming to power, he deceived students, youth and all sections of people by pursuing only his power agenda. In the past four years of his rule, KCR did not bother to fill teacher posts vacancies not to talk about his failed promise of creating lakhs of jobs for youth.
Azad also said that in double standards, nobody can beat KCR as his party was supporting BJP in the Parliament while appearing to criticise BJP party policies in the state. He asserted that it was Congress MLAs and MPs who fought and achieved Telangana state with KCR having no right to claim any credit.
At that time, Congress leaders of all ranks made great sacrifices and unitedly fought for separate state despite the prospect of inviting trouble from the Congress leadership, said Azad. The people remember all this and they would teach a fitting lesson to TRS at the right time, he added.
Ahead of elections, politics of credit-taking came to the fore with greater force this time in Telangana. It may be recalled that though the then Congress government formed Telangana state, its leadership could not translate it into electoral victory while KCR silently swept to power.
TRS is gathering support from MIM and other regional forces to make sure its victory once again.
Telugu360 is always open for the best and bright journalists. If you are interested in full-time or freelance, email us at
Krishna@telugu360.com